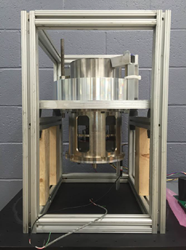 The Center of Innovation offered ThermoLift state-of-the-art mechatronic technologies combined with industrial experience to develop our complex controller requirements.
Stony Brook, New York (PRWEB) September 19, 2016
The Center for Innovation, conceived and directed by Hofstra engineering professor Dr. Kevin Craig, forms collaborative alliances that help private companies solve design challenges while exposing Hofstra students to real-world engineering applications. The partnerships generally run three to six months and the intellectual property rights remain with the companies.
ThermoLift is developing a cold-climate, natural gas, air-conditioner and heat pump technology that combines heating, air conditioning, and water heating into a single appliance. It can provide a 30-50 percent reduction in building HVAC costs while reducing greenhouse gas emissions.
Collaborating with the Center for Innovation since June, ThermoLift - which has received project support from the U.S. Department of Energy, the New York State Energy Research and Development Authority, and the Wells Fargo Innovation Incubator (IN2) funded by the Wells Fargo Foundation and co-administered by the U.S. Department of Energy's National Renewable Energy Laboratory (NREL) - is actively testing its second-generation prototype.
ThermoLift CEO Paul Schwartz said the innovation center's expertise in mechatronics - the next-generation crossroads of mechanical, electronic, computerized, and control systems - helped his company overcome significant design challenges.
"Hofstra's Center for Innovation offered ThermoLift state-of-the-art mechatronic technologies combined with industrial experience to develop our complex controller requirements," Schwartz said.
The collaboration "added to the depth of the ThermoLift team's capabilities," added Bob Catell, chairman of the board at Stony Brook University's Advanced Energy Research and Technology Center and a Hofstra University executive in residence.
"The partnership with the Hofstra Center for Innovation provided ThermoLift access to expertise in mechatronic system design and control," said Catell, former Chairman of National Grid and the American Gas Association. "It has built on the excellent foundation established at the AERTC and is an example of collaboration between two fine Long Island universities."
Hofstra's ThermoLift collaborators included four PhDs on the university faculty and some of the school's most accomplished engineering students. Christos Dimosthenous, a May 2016 graduate with an engineering bachelor's degree, worked directly with Dr. Craig on the project throughout the summer, and has now been hired as a full-time ThermoLift employee.
"The Center is fulfilling its promise of fostering industrial innovation and simultaneously enhancing the education of Hofstra engineering students," said Dr. Craig, who joined Hofstra's faculty after 18 years at Rensselaer Polytechnic Institute.
The professor, a graduate of West Point and Columbia University, taught mechanical engineering at Rensselaer, where he developed the institute's first Mechatronics Program in 1992. During his 18-year tenure, he graduated 20 PhD students, and conducted hands-on, integrated, customized, mechatronics workshops for practicing engineers - including seminars for national and international corporations such as Xerox, Procter & Gamble, Rockwell Automation, Fiat and Tetra Pak, the latter two based in Italy. He is a fellow of the American Society of Mechanical Engineers and the recipient of the 2014 ASME Outstanding Design Educator Award.
"Kevin has positioned engineering at Hofstra at the nexus between education and industrial practice," said Dr. Sina Rabbany, dean of the Hofstra School of Engineering and Applied Science. "The Center for Innovation offers previously untapped opportunities for academic and industrial participants to interact in projects that benefit all concerned. As the Center grows its operations, it expands our footprint in the Long Island economy."
ThermoLift is headquartered at the AERTC and receives business development support from Stony Brook University's Clean Energy Business Incubator Program.