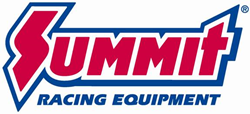 Tallmadge, OH (PRWEB) September 21, 2016
Summit Racing has created Detroit Muscle Power Stop Ultimate Challenger 2010 SRT-8 Parts Combos based on PowerNationTV's twin-turbo Dodge Challenger SRT-8 project. The Comoos provide an overivew of the parts used to build the Hellcat Challenger rival.
Engine Combo
Tommy and Marc had their pals at Engine Power redo the SRT-8's 6.1L Hemi long block to handle the Hellion twin-turbo setup. Pat and Mike punched the engine to 426 cubic inches with custom Eagle Specialties rotating assembly and recammed it with a .547/.500 inch lift COMP Cams XFI roller cam. Other upgrades include a Howard's double roller timing chain, a Melling oil pump, ATI Super Damper, and a set of 95 lb.-hr. Deatschwerks fuel injectors.
Suspension and Brakes Combo
To give their car a fighting chance on the Bondurant course, Tommy and Marc bolted on an Eibach Multi-Pro R1 coil-over suspension kit and a pair of Eibach anti-sway bars. Since Power Stop is the official brake provider of Bondurant Racing School, it only made sense to equip the SRT-8 with a Power Stop Track Day Plus pad and rotor kit as well as brake calipers front and rear. A set of 275/40/20 Continental ContiSport Contact 5 SSR tires were wrapped around a set of HRE wheels.
Completer Combo
Detroit Muscle tapped Magnaflow for a stainless steel cat-back exhaust system to handle the extra exhaust flow created by the twin-turbo Hemi. A Vibrant catch can was installed to catch excess combustion vapor. Tommy and Marc filled the crankcase with Pennzoil Ultra Platinum 0W-40 oil and replaced the radiator hose, belt, belt tensioner, and idler pulley with quality Continental replacements.
Catch the Detroit Muscle Power Stop Ultimate Challenger episodes at PowerNationTV.com.
Summit Racing Equipment
http://www.summitracing.com
1-800-230-3030