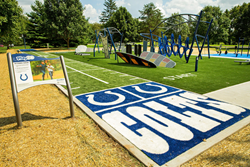 This is a space that draws together people of all generations, and from all walks of life.
Indianapolis, IN (PRWEB) September 21, 2016
GameTime, a leading manufacturer of commercial playground equipment, custom play spaces and outdoor fitness products, recently celebrated the opening of its newest Challenge Course and Fitness Park at Riverside Park in Indianapolis, Indiana.
The project was designed by Sinclair Recreation, GameTime's exclusive representative in Indiana, for the Indianapolis Parks Foundation and Indianapolis Parks and Recreation.
Funded by the Indianapolis Colts Foundation through the team's 50/50 Gameday Raffle and the NFL Foundation, the Challenge Course includes a 5,000-square-foot timed obstacle course and 40-yard dash for children, adults and families. The course is designed to work with the GameTime Challenge Course App for iOS and Android. The app allows participants to compete with one other, and against other players around the world. Adjacent to the course is a dedicated fitness area for adults. It features GTfit fitness equipment such as chest press machines, ellipticals, chin-up bars and other strength and conditioning equipment. The area is designed to bring together people of all ages and fitness levels and to encourage them to be more active…together.
Creating a multigenerational recreation space was important to the Indianapolis community, and to the Indianapolis Colts. In a statement published on the Colts website, Colts Vice Chair and Owner Kalen Jackson stated, "We are very excited to open the first fitness park of its kind in the Mid-West. This project at Riverside Park provides a safe play space for children and families in the Riverside community."
Rich Sinclair, Vice President of Sinclair Recreation, was on hand at the ribbon-cutting ceremony and was happy to see the response from local families. He stated, "We saw children running the 40-yard dash with their parents, teenagers from a local high school sports team training on the Challenge Course after school, and an entire family stopped by on their drive home from Illinois. This is a space that draws together people of all generations, and from all walks of life."
The new Challenge Course and Fitness Park at Riverside Park is estimated to serve more than 30,000 families each year.
About GameTime
GameTime is a leading manufacturer of commercial playgrounds, custom play spaces and outdoor fitness equipment. Headquartered in Fort Payne, Alabama, and with distribution around the world, GameTime has been dedicated to enriching childhood through play since our founding in 1929. Our products combine play research with thoughtful design to create playgrounds for children of all abilities. We bring together the right corporate, civic and nonprofit partners to build healthy, active communities that make the world a better place for children and families.
About the Indianapolis Parks Foundation
The Indianapolis Parks Foundation seeks financial support from community partners such as service organizations, corporations and individuals to purchase land, develop new parks, maintain existing parks, upgrade park facilities and provide support to programs benefitting children, families and seniors throughout Indianapolis. To learn more, visit http://www.indyparksfoundation.org or call (317) 860-3253.
About Indy Parks & Recreation
The mission of Indy Parks & Recreation is to create fun, safe, engaging and sustainable parks that enhance the quality of life for individuals, neighborhoods and communities. Indy Parks will be a national model of excellence and destination for facilities and programs, protecting parks, greenways and open spaces and championing environmental initiatives. For more information, visit http://www.indy.gov/parks or call (317) 327-PARK.
###