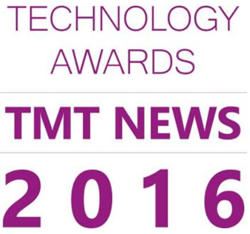 Winning this award underscores our commitment to enabling our customers to deliver a personalised customer service experience, drive a more effective sales team and boost business results
LONDON (PRWEB UK) 22 September 2016
NewVoiceMedia, a leading global provider of cloud technology which helps businesses sell more, serve better and grow faster, has been named Most Innovative Call Centre Solutions Company in the TMT News 2016 Technology Awards. Winners represent the technology industry's most pioneering organisations, individuals, products and services.
The industry-renowned awards programme casts a centre-stage spotlight on those, who through determination, commitment and hard work, have developed and shared their ideas to fundamentally evolve the business world and the lives of consumers and customers for years to come.
NewVoiceMedia was recognised for its innovative cloud customer contact platform ContactWorld which is revolutionising the way organisations connect with their customers and prospects worldwide, enabling them to deliver a unique customer service experience and drive a more effective sales team. With seamless Salesforce integration, a true cloud environment and proven 99.999% platform availability, NewVoiceMedia ensures complete flexibility, scalability and reliability.
The award win follows several recent victories for NewVoiceMedia including being named by Forbes as one of the world's top private cloud companies, which, coupled with acknowledgement from The Tech Tour Growth 50 of 2016 as one of the fastest-growing tech companies in Europe, further validates the company's position as a leader in the cloud communications industry.
"We are delighted to have been awarded the 2016 Technology Award for the most innovative call centre solutions company," comments Jonathan Gale, CEO of NewVoiceMedia. "Our true cloud customer contact technology is attracting some of the world's highest-growth businesses as we continue to drive innovation that is transforming the way they connect with their customers and prospects. Winning this award underscores our commitment to enabling our customers to deliver a personalised customer service experience, drive a more effective sales team and boost business results."
For further information, visit http://www.newvoicemedia.com