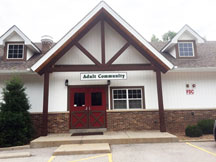 What a wonderful new business! Today I toured the Campbell Montessori Adult Community and am very impressed. They have different rooms designated for activities like a music room and a craft room (You could find me in the craft room from open till closing)
Saint Charles, Missouri (PRWEB) September 30, 2016
Just as a Montessori school differs from day care for children, Campbell's Adult Community is completely different from the stereotypical adult day care program – and for the same reason. Montessori methods are the key, and this new program at 3881 Shady Springs Lane on the campus of Campbell Montessori School in St. Charles, offers adults choice throughout the day.
Open between 8 a.m. and 6 p.m., Campbell's Adult Community offers socialization, music lessons, dancing, exercise, brain-stimulating games and activities, gardening, arts & crafts and outings into the community – all the components experts recommend to improve the quality of life of an older adult. In addition, Campbell's staff has been trained by Jennifer Brush, MA, CCC/SLP in the Montessori Approach for Aging and Dementia.
Participants in the program will have a voice in every part of the day, from helping to plan and prepare lunches and snacks, choosing the music and exercise they enjoy, choosing the games and activities they undertake, and planning outings, special events and projects. Participants are encouraged to help set their own schedules, and won't be interrupted except to come to lunch.
Admission interviews are now available for those who would like to join our community. Both full-time and part-time (three days a week) programs are available. For further information, please visit http://www.adultdaycare-stcharles.com or call us at 636-477-6651.