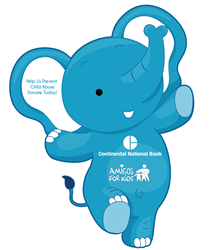 We'd like to invite our friends to participate in the $60K for 60 Days fundraiser. Together, we can make a difference for children in need in our community." said Jacqueline Dascal Chariff, Chairman, Continental National Bank.
Miami, Florida (PRWEB) September 21, 2016
Continental National Bank, South Florida's leader in community banking, announced a joint fundraising initiative with Amigos for Kids to benefit the prevention of child abuse and neglect in the Miami area. The fundraising initiative will run from now through November 18 with the goal of raising $60,000 in 60 days. Continental National Bank invites retailers and the community to join in and support Amigos for Kids' commitment to prevent child abuse and promote wellness for local families through its various programs and services. Donations can be made online at continentalbank.com, at any of their branch locations, or at participating retails partners.
Established in 1974 as Miami's first Cuban-American owned national bank, Continental National Bank prides itself on its continuous commitment to the community. Throughout its 40+ years of service, the Bank has supported numerous local charities and civic organizations, placing special interest in safeguarding a prosperous future for the leaders of tomorrow. Through their $60K for 60 Days fundraiser, Continental National Bank joins Amigos For Kids in building awareness about child abuse, which affects many families in South Florida.
"I'm so proud of our partnership with Amigos for Kids," said Jacqueline Dascal Chariff, Chairman, Continental National Bank. "For 25 years they have been helping abused and neglected children and providing programs for parenting education to strengthen families and encourage a healthy growing environment for kids. We'd like to invite our friends to participate in the $60K for 60 Days fundraiser. Together, we can make a difference for children in need in our community."
National Statistics show an estimate of 5 children who die each day from abuse and neglect in the US. Approximately 80% of those child maltreatment fatalities involve at least one parent as perpetrator. For this reason Amigos for Kids has dedicated the past 25 years to preventing child abuse, strengthening families, and educating parents and communities. Since 1991, their programs have helped over 25,000 at-risk children in South Florida. Continental National Bank is proud to support Amigos for Kids in celebrating 25 years of outstanding service and invites Miami residents to make a difference by making a donation that will benefit local children and families in need.
"Amigos For Kids is grateful for the continued support of Continental National Bank, and its retail partners for the collaboration to once again raise significant funds for our organization, " said Rosa Maria Plasencia, Amigos For Kids President and CEO. "The $60K for 60 Days fundraising effort provides us with the invaluable opportunity to continue educating the community and advancing our mission. We congratulate them for over 42 years of outstanding service to our community and their philanthropic commitment."
---
About Amigos For Kids
Amigos For Kids is a 501(C) 3 nonprofit corporation founded in 1991 to respond to the diverse needs of South Florida's abused, abandoned, neglected, and less-fortunate children and their families, through education, abuse prevention, and community involvement. To fulfill its mission, Amigos relies on the support of dedicated volunteers and donors throughout the community. Throughout the year, the organization creates awareness of its cause through public service campaigns, fundraising events, and community efforts such as the Amigos For Kids' There's NO Excuse for Child Abuse! ® Campaign. @amigosforkids http://www.amigosforkids.org
About Continental National Bank
Continental National Bank is a full-service community bank established in 1974 in Miami as the first Cuban-American-chartered national bank in the United States, serving its customers for over 42 years. With six branches conveniently located throughout Miami-Dade County, and with more than $490 million in assets, Continental National Bank was awarded the five-star "superior" rating by Bauer Financial and also has been rated "Outstanding" in their Community Reinvestment Act evaluation by their regulatory agency. The Bank offers a full range of financial products and services for retail, business and institutional clients.
To donate, please visit http://www.continentalbank.com