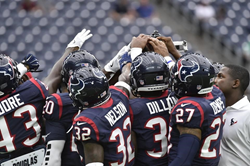 Humble, TX (PRWEB) September 19, 2016
With the start of football season, the game is definitely on the minds of all of the diehard fans out there, especially the Houstonians. While there are many exciting things for Texans fans to think about, including Brock Osweiler and their 4-0 preseason record, this is also the perfect opportunity for fans to appreciate the skill involved in the playing game and the many physical risks players face when they step onto the field. One risk is venous insufficiency, which can be caused by trauma or injury, including the types of injuries football players frequently suffer from.
During the last few years, dangers that football players face daily have surfaced and received harsh scrutiny and criticism, not only for the immediate dangers they face but also the long-term health risks. For example, while people already knew that football players might suffer from major and immediate injuries such as broken bones or concussions, they didn't realize the long-term impact of some of these injuries and how they can affect players even years after they no longer play.
Most of the attention has been focused on Chronic Traumatic Encephalopathy, or CTE, which develops after repeated mild brain injuries. However, because football players might also suffer repeated leg injuries, they're also at risk for chronic venous insufficiency, which affects the valves that carry blood between the heart and the legs. If these valves don't function properly, blood won't flow as it should and could pool in the legs.
Venous insufficiency brings with it a whole host of potential problems and complications such as swelling, pain, cramps, varicose veins and skin discoloration.
Because this condition is progressive, it's an important aspect of sports medicine and one that anyone involved in sports should keep in mind. While vein problems are sometimes thought of as an age-related condition, they're also caused by injury, which is why it's essential that athletes such as football players take care of their legs and veins and monitor their leg health. This includes undergoing a thorough physical exam whenever they suffer a leg injury, in addition to receiving necessary follow-up care to ensure any leg injury heals properly and that their veins remain strong and healthy.
Northeast Houston Vein Center can diagnose all vein-related disorders and develop a treatment plan to help patients feel better as quickly as possible. Call the office at (281)-446-4638 to make an appointment or for more information.
About Northeast Houston Vein Center:
The experienced physicians at Northeast Houston Vein Center offer comprehensive vein treatment in the Houston area. They provide the latest techniques and state-of-the-art equipment in the diagnosis and treatment of venous disease. Since its establishment in 1978, the medical professionals at Northeast Houston Vein Center have been dedicated to going above and beyond for their patients. Treatment options are minimally invasive and the outpatient procedures will allow patients to resume normal activities the same day. At Northeast Houston Vein Center, patients can imagine a life free of venous disease. For more information, visit their website at http://nehoustonveincenter.com/.