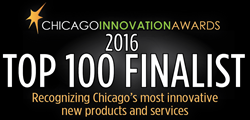 Chicago, Illinois (PRWEB) September 20, 2016
Out of 643 nominees, ktMINE has been selected as one of the Top 100 Finalists for the 15th annual Chicago Innovation Awards. The awards celebrate the most innovative new products and services in the Chicago region across all organization sizes, sectors, and industries. 1,500 business and civic leaders will come together to honor the winners when they are announced on October 25, 2016 at Chicago's Harris Theater.
The product nominated is ktMINE's Innovation Alerts, a system that sends users intellectual property (IP) activity notifications of technology sectors, industries, or companies. This information can indicate innovation even before the media, allowing users to create opportunities that drive the economy forward. Innovation Alerts can be utilized by a range of users such as competitive intelligence specialists, product managers, R&D teams, licensing specialists, business development managers, journalists, entrepreneurs, innovation labs, government agencies, and universities. Set up an Innovation Alert for a company, technology sector, or industry here: ktmine.com/free-alerts/.
"What I love about Chicago is its breadth of innovation," said Tom Kuczmarski, co-founder with Chicago journalist Dan Miller of the awards. "This year's nominees prove that innovation is taking place in both large companies and small, across industries, for-profit and non-profit, high tech and low tech. These risk-takers and visionaries are at the forefront of solving all kinds of unmet needs in the marketplace."
As one of the Top 100 Finalists, ktMINE will receive a $2,500 scholarship to attend The Practical Innovator, a day-long executive education course on September 29th led by top faculty who teach innovation at Northwestern's Kellogg School of Management.
Each of the Top 100 Finalists is also in the running for the annual "People's Choice Award," selected through online balloting at http://www.chicagoinnovationawards.com/2016-peoples-choice-award-2/.
Out of the Top 100 Finalists, the judges will select 10 winners of the Chicago Innovation Awards, as well as 10 winners of the Up-and-Comer Awards representing innovation in the start-up community, the Social Innovator Award, the Collaboration Award, and 3 new Neighborhood Award winners, which will showcase innovation occurring in Chicago's diverse neighborhoods. The winners will be invited to ring the NASDAQ Bell in New York City, invited to separate meetings with Mayor Rahm Emanuel, Governor Bruce Rauner and Cook Count President Toni Preckwinkle, and receive widespread media recognition.
About ktMINE
ktMINE, headquartered in Chicago, IL, is an innovation and intellectual property information firm founded in 2008. Focused on mining, organizing and connecting the world's IP information, ktMINE provides organizations across the globe access to insights on industries, technologies, and developments. For more information, visit http://www.ktmine.com, or contact ktMINE to schedule a meeting.