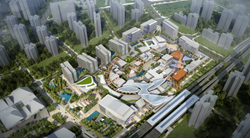 We are very proud to create a distinct urban development for this growing area of the city
New York, NY (PRWEB) September 20, 2016
New York-based LAGUARDA.LOW ARCHITECTS has just finished the design of an expansive new 3.7 million square-foot mixed-use development for CM-OCT Investment Co., Ltd in Longhua New District, Shenzhen, China. Comprised of eight high-rise towers, two cultural buildings, over twenty low-rise retail buildings, and an abundance of open green space, the new development will serve as an important center of activity for both the Longhua New District and the city of Shenzhen. CM-OCT Investment Co., Ltd is a joint venture of two of China's most reputable state owned developers: China Merchants and OCT.
As both Master Planner and Master Architect for the project, and working with renowned landscape design firm SWA, LAGUARDA.LOW has envisioned the project as a city within a city, giving each building a distinct architectural character and connecting the residential, office, retail hotel and cultural buildings through landscaped pedestrian walkways and a central green corridor that runs the length of the site from north to south.
LAGUARDA.LOW's plan positions a multi-level retail village at the center of the site, surrounded by four residential towers to the northeast; three office towers to the southeast; a hotel to the south; an indoor mall to the west; and a new performance hall and an exhibition facility to the north, across from the city's green belt. A central loop connects the various zones and provides access to parking below.
"We are very proud to create a distinct urban development for this growing area of the city," states Pablo Laguarda, Principal of LAGUARDA.LOW. "The quality and arrangement of the buildings, along with the dynamic public spaces, creates a vibrant setting to live, work, and enjoy the development's cultural and entertainment facilities."
Construction work for this CM-OCT Longhua project began in the second half of 2016. When completed, the development will connect directly to public transportation via the existing elevated Hongshan Subway Station, and a new bus terminal on the site.
The project represents a continued collaboration between OCT Group and LAGUARDA.LOW ARCHITECTS. The latter has previously designed several mixed-use developments for OCT Group, including the popular OCT Bay development in Shenzhen, encompassing 3.2 million square feet of hotel, entertainment, retail and restaurant facilities on Shenzhen Bay; and OCT Chengdu, an expansive mixed-use project adjacent to the Happy Valley theme park in Chengdu, China.
About Laguarda.Low Architects
Laguarda Low Architects is an award-winning architecture practice in New York City with a vast portfolio of built work throughout the world. Over the firm's 16-year history, Laguarda.Low Architects has completed numerous projects, including large-scale master plans, mixed-use developments, office and residential towers, hotels, and retail centers. With a close-knit, creative and international staff of over 50 design professionals, Laguarda.Low's work is driven by the desire to create vibrant and unique visitor experiences that enhance the client's overall vision for the project.