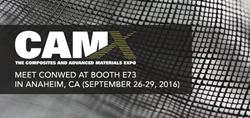 Minneapolis, Minnesota (PRWEB) September 21, 2016
Conwed, the leading plastic netting manufacturer in the world, will display its new line of infusion flow media at CAMX 2016, the Composites and Advanced Materials Expo, in Anaheim, CA (Booth E73 – September 26-29, 2016). Created by the American Composites Manufacturers Association (ACMA) and the Society for the Advancement of Material and Process Engineering (SAMPE), CAMX is an all-encompassing event bringing industry leaders together. With over 550 exhibitors, it is a networking and sourcing platform for users and manufacturers of composites and advanced materials in areas such as transportation, aerospace, marine, wind energy, software, construction, sports and leisure.
Conwed infusion flow media is an integral component in the manufacturing of advanced materials and composites used in applications requiring exceptional strength, stiffness and resistance. Wind turbine blades, airplane wings, vehicle parts and boat hulls demand powerful composite pieces able to withstand extreme forces during their useful service life.
Resin infusion is a fabrication technique used to create advanced composite parts with superior strength to weight ratios compared to those of traditional bulk materials. Also known as vacuum assisted resin infusion (VARI), this process includes several layers of dry materials placed into a mold. Typical layer configurations may consist of reinforcement material, peel ply, infusion flow media and bagging film.
"Our infusion flow media design can impact flow speed, drapeability and retained resin; the primary challenges in resin infusion processes that have driven our technology efforts to develop more efficient flow media," said Ivan Soltero, senior strategic marketing manager at Conwed.
The infusion flow media, also known as netting or mesh, has the vital function of conforming smoothly on to the mold and facilitating the flow of resin throughout the entire part. "The tight, low profile crisscross pattern of our mesh provides the necessary separation and channeling required to distribute a controlled, predictable flow of resin across the laminate efficiently and with little waste," said Soltero.
Conwed offers infusion flow media that meets industry standards, providing an optimal flow rate, enhanced drapeability and minimal retained resin results to create flexible, lightweight yet strong composites for a variety of resin infusion applications.
For additional information about Conwed infusion flow media, visit http://www.conwedplastics.com/infusion
About CONWED
Conwed is the leading plastic netting manufacturer in the world. Conwed manufactures extruded, oriented and knitted netting with unique customization capabilities. Headquartered in Minneapolis, Minnesota, Conwed has five manufacturing locations on two continents and a global distribution network.