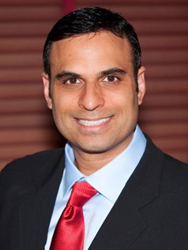 Oak Brook, IL (PRWEB) September 19, 2016
Renowned periodontist, Dr. Amarik Singh, is pleased to announce openings at his Chicago area practice for new patients suffering from gum disease in Oak Brook, IL, with or without a referral. Dr. Singh is trained and qualified to offer state-of-the-art laser dentistry technology and techniques to provide relief from moderate to severe periodontitis. This gum disease treatment strategy virtually eliminates the pain and trauma often caused by the incisions and sutures typically associated with traditional treatment methods.
Although some patients avoid seeking dental treatment for minor to serious conditions as a result of dental fear or anxiety, avoiding oral health care treatment can lead to serious systemic effects. When bacteria are not removed from around and below the gum line, they attack the soft and hard tissues of the oral cavity, and the resulting infection destroys the teeth and supporting structures. Dr. Singh understands that anxiety over shots, drills and scalpels can lead some to forgo dental treatment altogether, in spite of the increased chance that gum disease can lead to conditions such as heart disease and diabetes. In consideration of his patient's needs, Dr. Singh has received the extensive training and certification to treat gum disease in Oak Brook, IL, with advanced laser dentistry technology.
Utilizing a highly calibrated beam of light and water energy, the BIOLASE WaterLase® iPlus laser penetrates bacteria and infection to eradicate them without damaging healthy tissues. Laser dentistry cuts through hard tissue with extreme precision, so the periodontist is able to remove decay from teeth without compromising the integrity of tooth matter, and avoiding the friction and pressure of the drill that is no longer necessary. Patients can receive treatment quickly and with less discomfort than traditional treatments. After disinfecting and cleaning the gums and teeth, Dr. Singh highly recommends that patients who suffer with gum disease in Oak Brook, IL, schedule regular periodontal maintenance cleanings. This helps prevent a resurgence in bacteria and infection and ensures ongoing oral health.
Anyone in the Chicago area who is interested in learning more about the benefits of the BIOLASE WaterLase® iPlus laser, and the other leading services Dr. Singh provides, can find information on his website at http://www.pidentists.com, or call (630) 424-9404 to schedule a customized appointment.
About the Doctor
Periodontal Implant Associates is a periodontal practice offering personalized dental care for patients in Oak Brook, IL and the Chicago area. After graduating from Northwestern University Dental School, Dr. Amarik Singh went on to obtain his Specialty Certificate in Periodontics and earn his Master's from Northwestern University. Dr. Singh is deeply committed to continuing education and prides himself on remaining on the cutting-edge of the newest techniques and technology in dentistry. Dr. Singh has placed over 15,000 dental implants using a minimally-invasive technique and is part of an elite group of dental professionals at the forefront of the Chao Pinhole® Surgical Technique (PST™), a revolutionary new approach to repairing gum recession. To learn more about the periodontal services available at Periodontal Implant Associates, please visit http://www.pidentists.com or call (630) 424-9404.