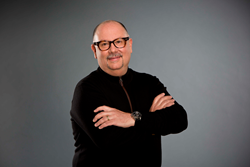 Carpenter brings a rare combination of strong design and analytical thinking combined with a passion for retail that aligns perfectly with Theory House's position as the Agency Built for Retail
Charlotte, NC (PRWEB) September 20, 2016
Theory House, the Agency Built for Retail, announces the appointment of Frederic Carpenter as Creative Director. Carpenter is relocating from New York City where he held the position of Creative Director at Corr-Jenson, a leading manufacturer and marketer of health and wellness products. He will report directly to Theory House President Jim Cusson and Managing Partner Jared Meisel, and work across all of the agency's domestic and international clients including Delta Faucet Company, Google, GUNK, Liquid Wrench, Staples, Boar's Head and Test Rite.
"As our client's needs have evolved, it was important that we find the right creative leader for Theory House," said Cusson. "Frederic brings a rare combination of strong design and analytical thinking combined with a passion for retail that aligns perfectly with Theory House's position as the Agency Built for Retail."
"I've never been more excited to join a team as I am at Theory House," says Carpenter. "I see an agency that has developed an impressive expertise in the retail branding space and I can't wait to contribute to its continued success. I look forward to bringing fresh creative energy combined with design innovation and craftsmanship that I feel is a differentiator in today's agency landscape."
Carpenter has been involved in retail marketing throughout his career – from his own agency in the San Francisco Bay area to the Oral Care division of Colgate Palmolive in NYC where he managed the global launch of new products including Kids toothpaste and the Optic White line. At Corr-Jensen he led the branding, design and launch of PERFORMIX, the leading sports and nutrition supplement line at GNC.
About Theory House
Theory House, the Agency Built for Retail, is a leading retail branding and marketing agency focused on helping marketers thrive at retail using a specialized suite of services, including: insights development, strategy, branding and in-store design. Headquartered in Charlotte, NC, its clients include The Fresh Market, Delta Faucet Company, Google, GUNK, Liquid Wrench, Staples, Boar's Head, Test Rite and Bojangles' Famous Chicken and Biscuits, among others. More information about Theory House and its expertise in retail branding can be found at http://www.TheoryHouse.com.