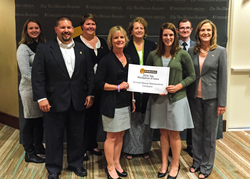 Our employees are our most valuable asset.
Grinnell, Iowa (PRWEB) September 20, 2016
Grinnell Mutual Reinsurance Company was named to the Des Moines Register's Top Workplaces for 2016, one of 10 companies that have made the list for six straight years.
The honor was announced in the Sept. 18 issue of the Des Moines Sunday Register. The Register, in partnership with WorkplaceDynamics, ranked Grinnell Mutual the 13th best large company (500 or more employees) to work for in the state.
"On behalf of our 700 employees, Grinnell Mutual is pleased to be recognized as one of Iowa's Top Workplaces for a sixth consecutive year," said President and CEO Larry Jansen. "This reinforces my belief that our employees are our most valuable assets, and it is an honor to know they feel good about coming to work each day."
The Register and WorkplaceDynamics evaluated survey responses from participating employers with at least 35 employees. The Top Workplaces were categorized by the size of the business and chosen based on employee feedback.
About Grinnell Mutual
Grinnell Mutual, in business since 1909, is the 114th-largest property casualty insurance company in the United States and the largest primary reinsurer of farm mutual companies in North America. The company provides reinsurance for farm mutual insurance companies as well as property and casualty insurance. Its products are available in 14 states.
###
For more information
Jennifer Miller
Integrated Marketing Manager
jmiller(at)gmrc.com
641.269.8322