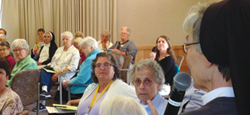 "We've spent the day galvanizing this contemplative power that we've been gifted in who we are," S. Gloria said. "What if we all focused it for the next eight weeks on civil dialogue, on conversations that are marked with respect and the common good?"
(PRWEB) September 21, 2016
The Dominican Sisters of Mission San Jose welcome public participation in a national contemplation practice focused on our upcoming elections. The contemplative practice seeks healing, the common good and civil discourse. Contemplation when undertaken as a group becomes a communal and powerful act. The Dominicans have a long tradition of discernment and daily contemplation that has guided them for 800 years. As November approaches, the Sisters invite all community members to join their commitment to establish a regular contemplative practice before and after the November elections (Tuesday September 20-Thanksgiving November 24, 2016). Individuals may choose to reach out to neighbors, civic organizations and friends throughout the nation in creating circles within their community, contemplating at a specific time each day.
Dominican Congregational Prioress Sister Gloria Marie Jones describes the simple practice: "Joining together to intentionally pause and hold a vision of our country healed of division, focused on the common good and engaged in respectful discourse. We encourage people from all walks of life to identify 5-10 minutes each day to consciously turn inward, hold this intention and breathe with awareness."
S. Gloria, trained in the practice of Contemplative Dialogue, is an experienced practitioner, dedicated to creating environments where authentic communication occurs in a climate of respect that honors each individual as a child of God.
Contemplative Power was initiated by Sister Nancy Sylvester, IHM, president of the Institute for Communal Contemplation and Dialogue and endorsed at a gathering of 50 women religious in San Rafael, CA. The Dominican Sisters invite individuals, civic, congregation and corporate groups to share information about this contemplative initiative. Guidance about how to establish a contemplative practice or to join the Institute's contemplative sitting network http://www.iccdinstitute.org/home/contemplative-sitting-network/ is available.
About the Dominican Sisters
Founded in 1876, the Dominican Sisters of Mission San Jose are an international congregation of Catholic women. With 24 affiliate and sponsored schools in northern and southern California and a Province in Mexico, the Sisters work in education, pastoral and prison ministries and affirm the four pillars of Dominican life: prayer, study, community and service. To learn more, visit http://www.msjdominicans.org facebook.com/dominicansistersofmsj