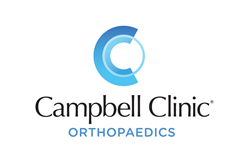 We're able to keep costs low, while still offering a superior experience for the patient.
MEMPHIS, Tenn. (PRWEB) September 20, 2016
Campbell Clinic Orthopaedics, a leader in orthopaedic care since 1909, has redefined the total joint replacement experience for patients through its outpatient procedure. With minimally-invasive methods and more effective pain management tools, Campbell Clinic has been able to accelerate patients' recovery time and decrease the need for inpatient, long-term medical supervision.
"A few orthopaedic centers across the country have begun to offer outpatient joint replacement as a service," said Dr. Patrick Toy, total joint replacement specialist at Campbell Clinic. "People are living longer, more active lives and want to improve their quality of life, but also they want to bounce back quicker and begin recovery in the comforts of their home. Outpatient joint replacement makes that a reality, and Campbell Clinic has developed a safe, cost-effective protocol that's enabled us to perform these procedures several hundred times on a same-day basis over the last three years."
Patients who meet certain criteria are now able to have their surgery performed on a same-day basis, in a more relaxed setting, and be back home that afternoon. With the advantages of today's orthopaedic procedures, the decision to choose outpatient over inpatient surgery has continuously increased. Outpatient surgery presents the option for safe, cost-effective care, offering improved patient comfort, increased efficiency and low complication rates, resulting in less money spent on additional health care to fix those issues. Moreover, the outpatient procedure often costs 50 percent less than inpatient.
As joint replacement steadily becomes more popular, Campbell Clinic specialists are performing more outpatient surgeries for qualified patients. Since 2007, there has been a significant increase in total hip (37 percent) and total knee (17 percent) replacements performed on an outpatient basis. More than 700,000 knee replacement procedures are performed annually in the U.S., while total hip replacements have surpassed 330,000 annually. These numbers are expected to increase fivefold in the next 15 years.
"One of the real benefits to outpatient joint replacement in the ambulatory surgery center is related to the cost structure. We're able to keep costs low, while still offering a superior experience for the patient," said George Hernandez, CEO at Campbell Clinic. "It's largely a function of overhead typically running below that of an inpatient hospital facility. Looking to the future, advancements in medicine and the provision of care will enable us to continue the decades-long pattern of transitioning more and more orthopaedic procedures, like total joint replacements, into the ambulatory surgery center."
About Campbell Clinic
Since its founding in 1909, Memphis-based Campbell Clinic has provided unsurpassed patient care while being recognized as the leader in teaching and research in orthopaedic surgery. As one of the world's premier practicing and teaching orthopaedic centers, they dedicate themselves completely to the advancement of orthopaedic techniques in order to better serve their patients.
 
For more information about Campbell Clinic, please call (901) 759-3100 or visit us online at http://www.campbellclinic.com.