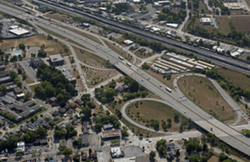 Elyria, Ohio (PRWEB) September 21, 2016
KS Associates, Inc., an Ohio transportation engineering firm, will be among this year's exhibitors and sponsors at the 70th annual Ohio Transportation Engineering Conference (OTEC) on Tuesday and Wednesday, October 25-26, 2016. The conference takes place at the Greater Columbus Convention Center in Columbus, Ohio. The event addresses the latest technologies and policies affecting the Ohio transportation industry and is expected to bring together more than 3,750 professionals from around the state.
Attendees are encouraged to stop by KS Associates' booth (#522) to discuss transportation engineering and surveying topics, and to meet members of KS Associates' Transportation and Survey Groups. Representatives will be on hand to discuss recent projects including the major rehabilitation of three bridges and approximately .75 miles of pavement replacement along I-90 in Cleveland, Ohio, (CUY-90-26.16); the $22 million State Route 57 Corridor Improvement Project in Elyria, Ohio; the use of 3D laser scanning to perform surveying services for the reconstruction of Cleveland Public Square; and other major projects for transportation and transit authorities including the Ohio Department of Transportation (ODOT), the Ohio Turnpike and Infrastructure Commission (OTIC), Cleveland Airport Systems, and Greater Cleveland Regional Transit Authority (RTA).
The KS Associates Transportation Group specializes in planning, bridge and roadway design, and construction inspection services for all types of transportation projects. The Group is pre-qualified by ODOT, and works with cities and counties to provide transportation engineering services throughout the state of Ohio.
The KS Associates Survey Group is comprised of Professional Surveyors and experienced field crew with the training, technology, and skill necessary to tackle large, complex transportation projects.
About KS Associates, Inc.:
KS Associates is a civil engineering, transportation engineering, and land surveying firm that provides planning, design, and construction phase services related to public infrastructure projects. KS Associates specializes in the areas of transportation, potable water, waste water and storm water; coastal engineering services; site development engineering services for institutional, commercial and residential uses; land surveying and mapping services; and 3D laser scanning services.