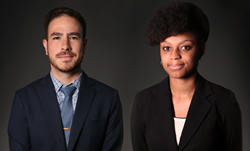 Our staff continues to impress. Receiving one, let alone two, year-long continuing education scholarships is justly deserved by both Jennifer and Tim. - Adrian Hagerty, AIA, LEED AP, Principal
Philadelphia, PA (PRWEB) October 03, 2016
The Jason Pettigrew Memorial ARE Scholarship program, part of the American Institute of Architects (AIA), recognizes emerging professionals who are making significant contributions to their profession at an early stage in their careers. Jennifer Matthews, a 2015 graduate of Tuskegee University's Robert R. Taylor School of Architecture and Construction Science, has been awarded this important scholarship to continue her preparation for the Architectural Registration Exam. Jennifer is deserving of this award due to her ongoing involvement in promoting the profession. In 2016 alone, Jennifer has represented the firm at university career fairs, volunteered at the AIA's national convention and provided mentorship to high school students interning at her office as part of community outreach efforts.
The Christopher Kelley Leadership Development Program, part of the AIA's Washington, DC chapter, began in 2013 to train and nurture the next generation of leaders. Over a year-long commitment, scholars attending several courses designed to enhance their understanding of the industry's direction, support their public presentation skills and encouraging leadership – both within their firm and in the community. Array's Tim Nuanes, AIA, LEED AP BD+C, is a member if the 2016-2017 class of scholars, who are chosen through a competitive application process. Tim and a small team will present an upcoming session on Industry Trends. Other sessions include topics such as 'Research, Education & Practice' and 'Negotiation & Contractual Pitfalls.'
Array believes its staff at all levels have valuable skills to contribute to the firm, their communities and the healthcare and design industries. The firm encourages staff to make those contributions by also being involved in the communities where offices are located. Several offices sponsor student mentorship opportunities – hosting elementary and high school students who express an interest in the design field. Other offices are involved with community groups such as CityTeam, providing hands-on assistance in their dining room and design assistance in their spaces. Still other offices volunteer their time to draw attention to pet rescue organizations throughout the year at community fairs. Spending time together on non-work initiatives has brought staff together in new ways and nurtures the teams' diverse interests.
--
Array is recognized as a leader in healthcare facility planning and design; strategy development; and, organizational transformation offering a full complement of knowledge-based services including planning, architecture, interior design, lean transformation and asset advisory from our eight office locations. Array's devotion to a healthcare-exclusive practice springs from our belief in the power of design to improve patient outcomes, maximize operational efficiencies, increase staff satisfaction and provide remarkable results for our clients.