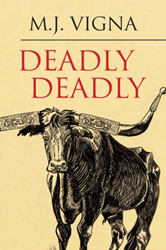 This book was wonderful. One of the best I've ever read. I wish it had lasted for another 300 pages,
Hemet, CA (PRWEB) September 21, 2016
Reviewers of the book "Deadly Deadly" written by M.J. Vigna have not only given the the novel strong reviews on Amazon, they have have also expressed a desire to see this story translated to film.
The reviews on Amazon have spurred Linda Ruggieri, who is the daughter of the author, into announcing that she is actively seeking a collaboration for her mother's debut novel, published in 2013 when her mother was 84. She is open to speaking with interested parties who work in the book to film industry. Linda says the story most closely resembles blockbusters such as "Lonesome Dove," "Open Range," and "Dances with Wolves."
"A few people interested in producing "Deadly Deadly," have approached me. I have not found the right match as I know this can't be developed on a smaller budget, this will require a larger budget. This project is open to people or companies that have the ability to get this done properly," Linda explains
Linda has expressed that as owner and manager to the rights of the book she is motivated to fast track a movie or series while her mother is still alive. M.J. Vigna, the author, is now 87.
Linda says it was exciting to see the reaction of the readers to an epic western story with an unusual twist of having a huge bull as one of the main characters. This is a timeless story and although it is a historical western, it has an equal appeal for women and men, especially Baby Boomers.
"I loved this book, which is why I originally published it. My mother had this manuscript sitting on a shelf for over 40 years. She was fearful of rejection, back in the days of mailing in manuscripts for consideration, to shop her writings. She ended up keeping them stored for "someday," which turned into years of collecting dust.
"When I first read my mom's manuscript of "Deadly Deadly," My first thought was how exciting and beautiful this story would be in film format. What surprised me was that the readers had the same reaction," Linda adds. "People who love reading can visualize a story as it unfolds. This story is very easy to visualize as an epic film in its grandeur, characters, romance, action and drama."
The other request of reviewers was to have a sequel. Linda is announcing that M.J. Vigna is happily busy writing the third sequel to "Deadly Deadly," The second book is already being prepared for publishing in late 2016.
"Deadly Deadly," by M.J. Vigna is listed on Amazon. M.J. Vigna's website is facebook.com/mjvigna. Interested parties are requested to contact Linda Ruggieri through the facebook.com site.