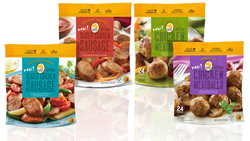 Meatballs are universally loved and a staple for nearly every culture, while sausages are being considered the new bacon.
Saint Cloud, Minn. (PRWEB) September 19, 2016
Gold'n Plump®, the flagship brand of the Midwest's leading chicken producer GNP Company®, is adding new lines of chicken meatballs and sliced sausages that provide a homemade, quality dining experience in as little as 20 minutes—making them ideal for almost any meal or entertaining need. According to Tracy Miller, GNP Company's Director of Product Innovation, the new lines also boast clean ingredients and are on-trend, filling consumers' desire for health and better nutrition.
Made of coarse-ground 100 percent quality boneless skinless thigh meat raised with no antibiotics–ever and only real ingredients, the new chicken offerings provide exceptional bite and texture without the fillers and artificial flavors found in many competitive products. All items are fully cooked and sold frozen in re-sealable, zip-top, gusseted bags featuring full-color, appetizing photography, serving ideas and easy-to-follow cooking instructions for the microwave, stovetop, oven, slow-cooker, or skillet.
The new products are scheduled to begin shipping mid-October 2016, and expected to be on shelf by the end of the month—just in time for the busy holiday and entertaining season.
"Research shows that 28 percent of consumers are preparing more meals in less than 20 minutes than they did five years ago(1)," explains Miller. "Meatballs are universally loved and a staple for nearly every culture, while sausages are being considered the new bacon(2). Both products offer what today's consumers, millennials especially, are looking for: better, healthier ingredients; bold not boring flavor; leaner protein; and convenient preparation with the taste and texture of handmade(3)."
Gold'n Plump Chicken Meatballs have a handmade appearance and are oven-roasted rather than oil fried. Flavors include:
-Homestyle made of American-style breadcrumb, rosemary and low sodium chicken broth; and
-Pesto Italian made of Romano, Parmesan and aged Asiago cheeses and roasted garlic.
Gold'n Plump Sliced Chicken Sausages are chef-inspired; feature a 3/8-inch bias cut, coarse grind visible ingredients and natural pork casing for a traditional sausage bite; and offers 60 percent less fat than pork varieties. Flavors include:
-Italian Cheese & Peppers made of aged Parmesan and Asiago cheeses, red and green peppers and paprika; and
-Hickory Smoked made with brown sugar, rosemary and hickory smoke flavor.
"For a homemade-like experience, there are no binders, meat substitutes, fillers, preservatives, added hormones, MSG, nitrites, nitrates, artificial flavors or colors in Gold'n Plump chicken meatballs or sliced sausages," explains Miller. "Also, we are one of the few brands to enter the frozen category with a 'chicken raised with no antibiotics–ever' attribute, and the only chicken product in the category to feature the American Humane Certified™ farm program seal. In addition, the nutritional values of our products are on par or better than similar competitive poultry products with less fat than beef and pork varieties, while providing 20 grams of lean protein per serving." All new products are gluten-free with the exception of the Homestyle Meatballs.
Items are line-priced with a suggested retail price of $6.99 per 18-ounce bag. Products come in 6.75-pound, six-unit cases for efficient, effective on-shelf stocking and management.
The launch will be supported by monthly trade promotions, and strong consumer marketing support including in-store elements (demos and $1.50 instant redeemable coupon on-pack); print, radio, outdoor and digital advertising; FSIs; mobile couponing; and social media promotion.
###
1 The Top 10 Food Trends, IFT, April 2015
2 Sausage is the New Bacon, East Bay Express, September 25, 2013
3 2015 Sausage Report: Holding Steady, National Provisioner, February 2015
About GNP Company® | Dedicated to Healthy Food, Families & Farms.
Based in St. Cloud, Minn., GNP Company is a provider of premium branded and custom chicken products to retail, deli and foodservice customers nationally. Founded by E.M. Helgeson in 1926 and purchased in 2013 by Maschhoff Family Foods, GNP Company remains family-owned. It distributes products under the Just BARE® and Gold'n Plump® brand names. Together, the company's more than 1,700 team members and 360 family farm partners in Minnesota and Wisconsin provide enough chicken for about 5 million consumers annually. For more information about the company and its mission of "dedicated to healthy food, families and farms," visit GNPCompany.com.
About Gold'n Plump® Chicken | Good Chicken is Our Mission®
Gold'n Plump® is distributed nationally by St. Cloud, Minn.-based GNP Company, a provider of premium branded and custom chicken products to retail, deli and foodservice customers. The brand's good chicken mission centers on being truly all natural, highly trimmed and free of unwanted solution, skin and parts. The Gold'n Plump All Natural line also boasts attributes of No Antibiotics-Ever and the American Humane Certified™ farm program seal. To learn more about the Gold'n Plump brand and its products as well as find great recipes, general cooking and safe handling tips and nutrition information, visit GoldnPlump.com. Find Gold'n Plump on Facebook, Twitter, Pinterest and YouTube.