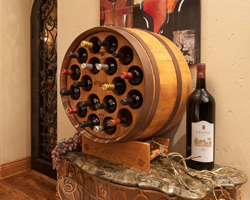 We really want to express our gratitude to our customers and supporters that have made this journey memorable.
Reno, NV (PRWEB) September 22, 2016
Reno company The Barrel Rack will be closing their business as of December 31, 2016. The company has been in business in the Reno-Tahoe area since February 2008. The husband and wife team have decided instead to spend time with their family. The company is selling out the rest of their inventory and entertaining selling the business and assets. They will also have wine accessories available at Reno-Tahoe home decor and wine shops.
"Diane and I wanted to keep ourselves busy during retirement by opening our own business", Chet says. "We did. A bit too busy but it was a good kind of busy. We setup the website and social media links, got a great patent on the product and I really enjoyed building the fixtures and templates to make the manufacturing process and product quality better and better. As we get older, the barrels seem to get heavier and other things in life seem to demand more attention, so, we decided that it is time to move on and we really want to express our gratitude to our customers and supporters that have made this journey memorable."
About The Barrel Rack
Chet Bassetti, president and founder of The Barrel Rack, and his wife, Diane, created The Barrel Rack wine barrel rack as a beautiful and unique way to store and showcase wine.
Chet, a retired electrical engineer, and Diane desired a rack system for their wine collection that didn't resemble the typical designs that were available when they built their home in the Reno-Tahoe area. Chet built his first prototype using a wine barrel he obtained from a local store. The couple decided to market their creative and functional design to homeowners, homebuilders, remodelers, architects, interior designers, home stagers, wineries, wine stores, and restaurants.
Made from recycled American white oak or French oak, the elegant yet rustic recycled barrels are skillfully created the same way barrels were made over a century ago. Chet's patented design (US Patent # 7922015) accommodates three cases of wine.
The Barrel Rack was featured in the Reno Gazette-Journal, Northern Nevada Business Weekly and on the DIY Network. The wine racks were recently featured on Houzz with over 500 Saves on the online home and design directory.
The Barrel Rack, LLC
PO Box 17110
Reno, NV 89511
Phone: (775) 622-1363 | Fax: (775) 622-1617
diane(at)barrelrack(dot)com
barrelrack.com