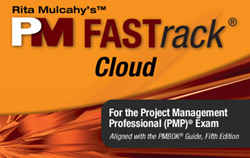 "PM FASTrack® Cloud is the first in a series game-changing Exam Simulation Products", says CEO Tim Mulcahy. "It gives our customers the ability to take practice exams in a mobile environment and will be available in Spanish, Portuguese, and French."
Minnetonka, MN (September 21, 2016) (PRWEB) September 21, 2016
RMC Learning Solutions has been refining exam simulators for more than 15 years. Its original design, created with the assistance of a psychometrician, simulates the actual PMP exam with great detail. Now it is proud to introduce PM FASTrack® Cloud: The online subscription version of its popular exam simulation software.
Features include:

Online tips to guide users through full exam simulations and study modes that allow them to take exams by knowledge area, process group and keyword/concept.
Frequent updates.
A 1,500+ question database that allows students to take multiple different exams..
All questions are cross-referenced with Rita Mulcahy's PMP® Exam Prep textbook, so users may quickly and easily find what they need to study.
Cloud-based software format allows students to practice from their desktop computer, laptop computer or tablet.
Account and exam data can be accessed via secure browser connection, allowing users to start study on one device and continue on another.
About RMC Learning Solutions
Founded by Rita Mulcahy in 1991, RMC is the worldwide innovator in Project Management, Business Analysis and Agile training and professional development. Over the last 20+ years, hundreds of thousands of students in over 60 regions across the globe have utilized one of RMC's proprietary professional development resources, classes, or e-Learning courses to expand their knowledge and further their careers. Today, RMC offers a wide range of innovative project management, business analysis and agile classes and products to help beginners, advanced practitioners, and experienced professionals improve their skills and knowledge as well as prepare for certification.
RMC Public Relations Contact:
Ken Mulcahy
(952) 846-4484 x410
kmulcahy(at)rmcls(dot)com