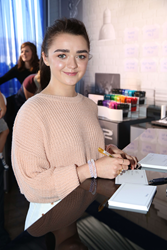 Los Angeles, CA (PRWEB) September 19, 2016
GBK, the luxury lifestyle gift lounge and special events company, and Pilot Corporation of America (Pilot Pen) honored the 2016 Emmy Awards' Nominees and Presenters with their annual GBK Luxury Lounge on September 16th and 17th at Viceroy L'Ermitage Beverly Hills. Guests enjoyed gifts, refreshments and a gorgeous tented event with music by AdamsLiveMusic.
The event's Title Sponsor, Pilot Pen offers America's favorite pens including G2, G2 Limited and Ageless – these pens are the longest-lasting, smooth writing, #1 selling gel ink pens and are the ultimate gift for the ultimate overachiever! For more information about their assortment of pens, please visit: PilotPen.us and G2Overachievers.com.
In addition, celebrities will be walking away with a one of a kind experience from Presenting Sponsor, Il Palato Italiano – An international club committed to raising awareness of Italian culinary arts through cultural activities and selected products. Offering a Panettone created by Mauro Scaglia and a certificate for an Italian dinner experience at home for up to 15 people. Experience a real, high-class Italian dinner at home, where exclusive dishes are paired with unique wines, and amazing flavours.
Other amazing gifts included unique luxury & lifestyle items like Belmond La Samanna St. Martin, Offering three nights in a stunning Ocean View Suite with daily breakfast for two, beautifully located on St. Martin's most exclusive white sand and turquoise Baie Longue Beach; The Artisan Group® -Showcasing a collection of handcrafted jewelry and accessories, spa and bath products, candles, cosmetics, clutches, pet accessories, stationery, and other handmade gifts; Hastens Los Angeles – Spoiling guests with a pair of Down Boots and a three night stay in their all natural beds at the Nordic Light Hotel in Stockholm Sweden; Allocacoc - Products that are radically Different = Innovative. Presenting the AudioCube, the best portable Blue-tooth speaker for your home & the "PowerCube", providing a space saving solution for power supply in both home & office; MAVEA - Offered in three stylish products (the MAVEA Water Filter Pitcher, MAVEA Water Filter Carafe and MAVEA Water Filter Bottle), the MicroDisc Filtration System from MAVEA features an interchangeable water filter smaller than a drink coaster that can provide 50 percent more filtered water than the leading brand; Gift Wrap My Face – A Miami-based startup that is redefining the act of giving by letting people create custom wrapping paper featuring their face (or that of a pet or loved one!); LA's Dog Trainer - Gifting free admission to the Precision Timing/Clicker Workshop, providing specialized dog training programs in order for pet owners to communicate with their pet for a better life; and Swimline and Solstice Watersports - An industry leader, and innovator, of both unique and functional inflatable lounges and novelty floats.
Beauty and health sponsors included: Burke Williams Spa - Gifting products from the spa's exclusive skin care line H2V, Shankara essential oils used in the new Ayurvedic body treatments, and spa passes to come visit the brand new Hollywood spa opening September 12, 2016; Viva Youth - Providing $1,000 gift certificates towards any plastic surgery procedure, in addition to Viva Youth's Helichrysum Italicum Essential Oil; Bedford Dental Group - Dr. Naysan, a Beverly Hills dentist whose multi-specialty practice has lead to extensive benefits for the smiles of his patients, from A-list celebrities to locals; Beauty Kitchen by Heather Marianna - Supplying all natural and organic skin polish and hand sliced soap bar products; and For the Love of Baths - Adding a little sentiment to any room with inspirational quote candles handcrafted with Love from pure soybean wax and botanical oils.
A true highlight of the lounge was the incredibly diverse and trendy fashion and accessory products including: 7 Charming Sisters - Selling quality, trendy fashion jewelry for all personalities and styles; GuiltySoles - High quality, fashion forward footwear at a guilt free retail; Wrapped in a Cloud - A boutique company that specializes in fully customizable plush robes and blankets for adults and children; Zoan Ash - Luxury gowns and red carpet looks from Bangladesh; Busté – A patent-pending bra that gives you amazing lift with no underwire while using organic, non-toxic material; and Canada Bliss Hat Company - Stylish Canadian luxury handmade hats made of the finest materials.
Gourmet sweets and treats were sampled and gifted at the event by Bread Basket Cake Co. - Providing gift certificates for an 8 inch star quality costume cake; Ike's Place - Award Winning Sandwiches for Meat Eaters, Vegetarians, Vegans, and Gluten Free Diets; Heitz Wine Cellars - Napa Valley's first vineyard-designated Cabernet Sauvignon. Today, celebrating the 50th Anniversary of this quintessential Cabernet; One Handshake, Three Generations, 50 Years Strong; Maison Louis Latour - The United States' importer of Masion Louis Latour Wine, pouring both red and white French Burgundy wine; Voo Vodka - A premiere spirit distilled in Michigan; and Williams Selyem - Award winning, Cult-Status Pinot Noir Producer since 1981, gifting their 2013 Williams Selyem Russian River Valley Pinot Noir.
Charity beneficiary included:
American Friends of Magen David Adom (AFMDA) - AFMDA is the American fundraising arm of Magen David Adom (MDA), Israel's national emergency medical response agency and Red Cross affiliate. MDA, Israel's largest volunteer NGO, is a global pioneer in mass-casualty response, sharing its knowledge in the U.S. and around the world. For more information, please visit http://www.afmda.org
# # #
ABOUT GBK:
GBK, formerly GBK Productions, is a luxury lifestyle gifting and special events company, specializing in entertainment marketing integration. Formed in 2000 by Gavin Keilly, the company's Founder and CEO, GBK consists of five divisions: GBK Celebrity Gifting, GBK Special Events, GBK Weddings, GBK Charitable Consulting and GBK Marketing/Public Relations. Widely known in the entertainment industry for bringing that little extra something into the Gifting Lounge environment, GBK offers its clients a full range of marketing services. For more information on Gavin B. Keilly (CEO) or GBK, please go to gbkproductions.com.