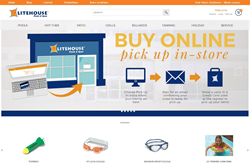 "For us, this feature is all about convenience—that a local customer can order something on-the-go, swing by our store and pick it up, and they know it will be there waiting for them when they arrive
(PRWEB) September 20, 2016
Typically seen as only within the grasp of the largest retailers, two small and medium-sized (SMB) retailers have created cross-channel success with the recent launch of fully-integrated online and in-store customer experiences provided by award-winning omnichannel e-commerce platform provider UniteU. The new technology is making it easy and affordable for SMB retailers to adapt and compete as their consumers continue to value smooth cross-channel buying experiences that align with modern, on-the-go and connected lifestyles. They can reap the same benefits as Tier 1 retailers, without the large technology expenditures.
Litehouse Pools and Spas, a fifteen-store multi-channel retailer in Ohio, and Active Endeavors, a single-store operation in Iowa, both launched omnichannel initiatives via UniteU's Omnichannel Catalyst™ platform, and both are seeing immediate results.
"We're thrilled with the results and our customers are too," said Chris Curcio, owner of Litehouse Pools and Spas, which started as a chemical sales business for commercial and residential pools and opened its first full-service retail location in 1967.
Curcio said he and his team realized they needed to take action as they observed that their consumers had become savvier over the last couple of years, having experienced omnichannel convenience with some of the larger retailers that they interact with.
"Part of our success through the years has been that we have continued to evolve with the needs of our customer base, and this was no different," he said. The Litehouse team noticed that customers wanted to check online to see if a product or part they required is available at their local store before they go to pick it up, or order with their phone on-the-go to save time.
"Seeing these trends we couldn't stand still," Curcio said. "We needed a solution that is full circle, and that allows our brand to fill the needs of our loyal consumers who've come to trust and know our service-level."
The company required an e-commerce solution that could integrate seamlessly with their Microsoft Dynamics® RMS in-store systems, and that could provide a dynamic, accurate online view of their inventory across the enterprise, giving their customers immediate access to available products and services at local Litehouse stores.
UniteU was chosen to integrate with Microsoft Dynamics RMS and to design a new fully-responsive e-commerce site that provides an optimum experience on all device types. The result is a fresh and easily-navigable digital experience that incorporates modern cross-channel capabilities, including allowing the consumer to easily locate inventory at a nearby store, on their desktop, tablet or phone, checkout online, then pick it up at their location. Within the first few weeks of launching Pickup In-Store on their website, the functionality is accounting for 40% of their total online orders.
The platform also smartly orchestrates operational processes, notifying store-level staff when Pickup In-Store orders need to be fulfilled via SMS or email messaging. The messages can easily be managed on the employee's smartphone, or a shared tablet device, so as not to disrupt sales floor activities.
"Implementing a true cross-channel experience is not just about the front-end consumer interfaces, although these are very important," says Soumen Das, CEO of UniteU Technologies. "We also carefully consider store operations and how to make it easy and clear for store staff to service cross-channel customers."
In August 2016, Microsoft Retail's exclusive global distributor Retail Realm honored UniteU at its annual conference with a "Circle of Excellence" award recognizing UniteU's innovation in omnichannel solution development and its dedication to customer success.
"Our team was honored to receive this award, it represents the work we've done to make Tier 1 omnichannel technology available to all sizes of retailers, even those with just one store."
Active Endeavors, a single-store retailer based in Davenport, Iowa, implemented and launched Pickup In-Store with UniteU in early September this year, and has received immediate positive feedback from customers.
"For us, this feature is all about convenience—that a local customer can order something on-the-go, swing by our store and pick it up, and they know it will be there waiting for them when they arrive," said Matt Ostrom, owner of Active Endeavors of Davenport. "They don't have to go looking for it, or be disappointed when what they wanted was out-of-stock, or alternatively wait for something to be shipped."
Active Endeavors uses Retail Pro® point-of-sale software in-store, and UniteU fully integrates with the system to provide a seamless, unified customer experience, as well as smooth omnichannel operations.
"The feedback so far has been very positive. Combined with our local knowledge of our customers, this new functionality provides a competitive advantage over the larger retailers we compete with. The marriage of online and in-store is a winning combination," Ostrom concluded.