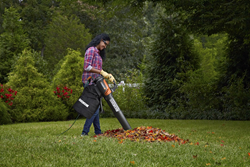 Charlotte, N.C. (PRWEB) September 20, 2016
Corralling leaves with a rake for pickup can be backbreaking and time consuming work, but WORX has a faster more efficient solution with its new line of turbine blowers. For example, the WORX TURBINE600 powerhouse blower can clear a quarter acre suburban lot in just over an hour.
The 6.4 lb. 12 amp TURBINE600 Blower develops a maximum air volume of 600 cubic feet per minute (cfm), making it the most powerful electric blower in its class and the most powerful blower WORX has ever offered. It's 7½ times more powerful than the popular WORX AIR 20-volt model. Plus, it generates 35 percent more air volume than competing models at comparable price points.
"Homeowners shopping for blowers or blower/mulcher/vacs should consider not only mph, but the blower's air volume (cubic-feet per-minute)," said, Brandon Martin, WORX Product Manager. "It's the combination of these two features and the fan's motor design that set them apart."
As with all WORX turbine blowers, the axial fan motor is the difference maker. It pulls air directly into the fan and immediately forces it out through the large diameter blower tube. Each blower tube contains a hyper-stream nozzle that concentrates and intensifies the air stream.
The TURBINE600's variable-speed control provides air velocities ranging from 60 to 110 mph. A light breeze is ideal for working in flower beds, garages, screened porches and other sensitive areas. Or higher speed settings can be selected to quickly blast leaves and debris out of the way or across the lawn in a hurry.
The new WORX 7.5 Amp TURBINE450 Blower is budget-friendly at $49. It develops a maximum air volume of 450 cubic feet per minute (cfm). The blower's four-speed control provides air velocities ranging from 60 to 120 mph. Switch instantly from light-duty clean-up chores to moving heavy accumulations of leaves and debris, even when damp.
A great choice for seniors, the 6.4 lb. TURBINE450 blower is well balanced and all but eliminates the need for a broom and dust pan outdoors.
Transitioning from a blower to a combination blower/mulcher/bagger just got easier with the introduction of WORX new TURBINEFUSION Blower/Mulcher/Bagger. With this yard machine, homeowners not only have a blower, but one that vacuums and mulches yard debris. It's just like having a vacuum cleaner outdoors.
.
It combines 525 cfm (cubic-feet-per-minute) high capacity air volume with turbine fan technology to produce a two-speed blower/mulcher/bagger with an all-in-one, single-tube design. Internally, the combination vac engages a two-stage, metal-impeller, mulching system that produces an industry leading 24:1 mulch ratio. In stage one, a high-velocity shredder blade shreds debris before entering stage two, which pulverizes it with a metal impeller into fine mulch.
If a neighbor was raking leaves by hand, he'd fill nearly 24 recyclable bags, compared to a single bag with TURBINEFUSION. Whether the leaves and yard debris are ultimately used for mulch or curbside pickup, the difference in time, energy and cost savings of municipal stickers/bags is significant.
The WORX TURBINEFUSION is one of the only blower/mulcher/baggers on the market that requires no tools or kits to convert from blower to mulcher/vac. Attach the zipper-free leaf collection bag and it's ready to go. Emptying the bag is quick and easy.
The 9.3 lb. blower/mulcher/bagger is constructed of high-impact nylon composite and is ergonomically designed for single-handed operation.
For managing massive leaf piles, consider using WORX LeafPro High Capacity Collection System. It connects to major brand blower/mulcher/vacs including WORX, through a 4-in. adapter/hose that is 8 ft. in length, with a total diameter reach of 16 ft.
One end of the hose fastens to the vac, while the other end feeds into a circular, elastic nylon cover. This elastic cover slips over the rim of 32 to 96 gallon outdoor waste containers (circular containers preferred), and then is cinch tied. When the vac is turned on, the leaf pile makes its way through the blower/mulcher/vac and then through the 4 in. hose and into the trash container for easy disposal.
The WORX LeafPro Universal Collection System for TURBINEFUSION (WA4057, $39.99) is available at http://www.worx.com and other online retailers including Walmart, Amazon and Home Depot.
Find WORX turbine blowers including TURBINE600 Blower (WG520, $59.99), TURBINE450 Blower (WG517, $49.99) and TURBINEFUSION Blower/Mulcher/Bagger (WG510, $89.99) at worx.com and other online retailers including Walmart and Amazon. WORX turbine blowers are backed by WORX 3 year warranty.
To reach out to WORX social media links visit: Facebook: https://www.facebook.com/worxus?ref=hl; Twitter: https://twitter.com/WORXTools;
Pinterest: http://pinterest.com/worxtools and Instagram: @WORXTools
# # #