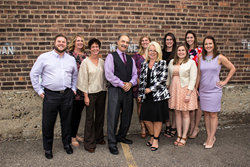 Minneapolis, MN (PRWEB) September 21, 2016
Maccabee Public Relations, a strategic public relations and online marketing agency, is celebrating its 20th anniversary.
Founded in July 1996 as the Maccabee Group by Paul Maccabee and Steve Shapiro to serve two initial clients, Maccabee has grown from a publicity firm to an agency that offers a wide variety of PR and online marketing services. In recent years, Maccabee has developed a dedicated practice in content marketing, social media and blog strategies.
As well, in 2012, the Maccabee team launched its first-ever blog, MaccaPR. Dedicated to inspiring chief marketing and PR officers, corporate communications directors and marketing professionals, MaccaPR was named one of the "Best PR Blogs in the World" by InkyBee.
Irresistibly collaborative, relentlessly strategic and fiendishly creative, Maccabee helps companies achieve measurable results including exceptionally strategic and creative media relations, social media strategies, inbound/content marketing and corporate communications counsel.
"Over the last 20 years, Maccabee has had the pleasure of employing dozens of our industry's brightest PR professionals," said President Paul Maccabee. "We could not have done it without our wonderful clients." Maccabee has provided PR and online marketing services to hundreds of clients in the Twin Cities metro, throughout the Midwest and beyond.
The agency has been honored with numerous awards including "PR Campaign of the Year," "Best Cause Marketing Campaign," "Best Viral Marketing Program", "Best New Media/Retail Marketing," "Special Event of the Year," "Best Publicity Campaign," and multiple Minnesota PRSA Classics awards. Maccabee is also a four-time winner of the Minnesota's "100 Best Companies To Work For" award.
Maccabee is based in the North Loop District of downtown Minneapolis. Find out more about the agency at http://www.maccabee.com and http://www.maccapr.com, as well as on Twitter.
For more photos of the event, please visit our Facebook page.