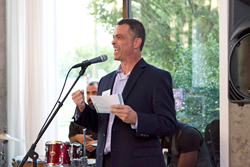 We had a wonderful evening in our new space with our many Chapel Hill friends.
Chapel Hill, NC (PRWEB) September 21, 2016
Rivers Agency, a full-service advertising firm, recently hosted a "Look for the Stars" party to celebrate and build awareness of Morehead Planetarium and Science Center's new enhancement project on the University of North Carolina at Chapel Hill's campus.
The invitation-only event took place on Thursday, Sept. 15 and included live music by the soulful roots quartet Skinny Bag of Sugar and Southern cuisine by the famed Crook's Corner restaurant. Chapel Hill's iconic Top of the Hill bar provided "Cosmos under the Cosmos" cocktails, and a local artist created a piece of unique art, which was raffled off to one lucky winner.
"Morehead Planetarium and Science Center is being reimagined for the 21st century as a modern day, technologically advanced science education facility for the people of North Carolina," said Todd Boyette, director. "Today's tech savvy museum-goer expects a different kind of experience than what was originally created when the Planetarium was originally built in 1949, and that's what our latest enhancement is designed to deliver."
The plans for Morehead Planetarium and Science Center include newly designed, cross-functional educational spaces and exhibits utilizing the latest technologies; an upgraded Science Stage offering a dynamic, multimedia experience for larger audiences; and the creation of a new path of entry through the building's West Entrance. The new visitor experience is being created by Mycotoo, a Pasedena, Calif.-based design firm known for its award-winning museum and exhibition work.
"By creating an engaging and interactive experience poised to serve more than 160,000 visitors every year, Morehead is committed to continuing its legacy by inspiring the next generation of scientists and explorers," said Boyette. During the Look for the Stars event, Boyette will provide an update on the enhancement project.
Boyette added that Morehead was originally designed by the architects of the Jefferson Memorial and that, when it opened, it was the first planetarium on a U.S. college campus and also the first such science center in the South. Since its opening nearly 70 years ago, Morehead has welcomed more than 8 million visitors and provided training for nearly every American astronaut from 1959 to 1975, including 11 moonwalkers.
Today, Morehead provides non-credit classes for adults and children, special courses for teachers, summer camps for children, monthly skywatching sessions and a host of other programs for all ages that keep the community involved in science. Morehead also offers extensive outreach programs statewide and organizes the North Carolina Science Festival.
The "Look for the Stars" party was held at Rivers Agency's office in the LEED Gold-certified Greenbridge Condominums complex in Chapel Hill. Rivers' 4,700-square-foot office space, which the agency moved into in 2014, was designed by Phillip Szostak, an award-winning architect with Szostak Design of Chapel Hill.
"We had a wonderful evening in our new space with our many Chapel Hill friends," said Lauren Rivers, president and founder of Rivers Agency. "The longest red carpet ever seen in Chapel Hill set the stage for a star-powered night of cosmic conversation and creative cocktails. Morehead Planetarium and Science Center is one of our area's — and state's — true treasures, and this party marked the beginning of a new chapter in its storied history."
About Rivers Agency
Rivers Agency is a full-service advertising agency with a full-time staff of 46 specializing in advertising, marketing, public relations, graphic design, web design and development, and TV and video production. Launched by Lauren Rivers in 1993, Rivers Agency has grown from a small start-up to a thriving firm that serves more than 70 active clients. Since its founding, Rivers has designed, developed and deployed more than 150 websites for businesses, universities and nonprofit organizations.
About Morehead Planetarium and Science Center
Morehead Planetarium and Science Center delivers informal science education programs as part of the University of North Carolina in Chapel Hill. Founded in 1949, Morehead is best known for its original planetarium shows, which are distributed to dozens of planetariums worldwide, and for its history as a training center for Mercury, Gemini, Apollo and Skylab astronauts. Each year, Morehead on-site and outreach programs serve more than 150,000 North Carolinians. Morehead also founded and produces the annual North Carolina Science Festival. For more information, visit moreheadplanetarium.org or call 919-962-1236.
# # #
For media inquiries, contact Rivers Agency:
publicrelations(at)riversagency(dot)com
919-932-9985
For Images: http://bit.ly/2cMbfKJ