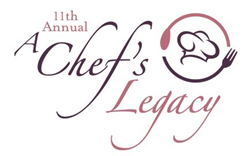 The annual Chef's Legacy fundraiser honors the memory of Chef Craig Rutman, the first director of Monroe's culinary arts program.
NEW ROCHELLE, NY (PRWEB) September 20, 2016
Monroe College, a national leader in educating urban and international students, hosted The Monroe Foundation's 11th annual "Chef's Legacy" fundraising event last night.
The food and wine event, which each year raises scholarship funds for academic programs supported by The Monroe Foundation, was held at Monroe's Culinary Arts Center in New Rochelle. It was hosted by Frank Costantino, dean of Monroe's School of Hospitality Management and its Culinary Institute of New York. The menu was prepared by culinary arts students and program alumni, with service provided by those in the hospitality management program.
The annual Chef's Legacy fundraiser honors the memory of Chef Craig Rutman, the first director of Monroe's culinary arts program. The Monroe Foundation established the Rutman Memorial Scholarship Fund to honor Chef Rutman's work to increase students' access to "real world" educational opportunities, such as those offered through the culinary study abroad program he launched shortly before his untimely passing in 2005. More than $80,000 was raised at last year's event. A portion of those proceeds provided tuition assistance to eight Monroe College culinary arts students that departed on September 10th for a semester abroad in Italy.
Several students from last year's study abroad class spoke to attendees about their experience in Italy and their success after graduation. They also helped current students prepare the food as a way of saying thank you for the opportunities they were afforded through the generosity of the Rutman Memorial Scholarship Fund.
This year's event highlighted the flavors of Italian comfort foods, including an antipasto table, stone hearth-baked pizzette, pasta, and risotto. Approximately 225 guests attended, including local residents, government leaders, business partners, and the regional culinary community, as well as College faculty and staff.
"We were delighted once again by the strong community support at last night's event, which honored the legacy of Chef Craig Rutman, a remarkable chef and passionate educator whose tireless dedication to students was an inspiration to all who met him," said Stephen Jerome, president of Monroe College. "We look forward to the annual Chef's Legacy event each fall, and I thank all who attended for helping fund the academic dreams of so many deserving students."
Prior to joining Monroe in 2003, Chef Craig Rutman taught baking courses at the New York City Technical College in Brooklyn. In 1997, he opened his own restaurant, Bissaleh, a Mediterranean eatery in Brooklyn. Previously, he worked as a pastry chef at An American Place, as well as NYC's renowned Sarabeth's restaurant. He began his career as a line cook at the River Café in Brooklyn, where he was soon promoted to pastry chef. He studied culinary arts at Sullivan County Community College in New York.
To make a donation to the scholarship fund or learn more about The Monroe Foundation, please contact Kathy Murphy at kmurphy(at)monroecollege(dot)edu or call 646-393-8254.
The Culinary Institute of New York (CINY) at Monroe College is an award-winning, nationally recognized culinary institute that provides students with a combination of theoretical education and hands-on experience in culinary arts, pastry arts, and hospitality management. With access to state-of-the-art instructional facilities designed to simulate the kitchens of restaurants, hotels and large production operations, students receive personal instruction and mentorship from a faculty of ACF-certified chefs and experienced industry professionals who are committed to their success. CINY has been ranked one of the top 10 culinary schools in the Northeastern U.S. and in the top 20 nationwide.
In the few years since its founding in 2009, the program has produced award-winning culinary teams, students, faculty and staff, as well as a critically acclaimed student-run restaurant, The Dining Lab, which was deemed a "training ground for students" by The Wall Street Journal and "the little kitchen that could" by The New York Times. Its culinary competition team was named New York State Champions for two years running and has won more than 600 ACF medals. More information, including admissions criteria, is available online.
ABOUT THE MONROE FOUNDATION
The Monroe Foundation was established in 1993 to assist deserving individuals in the pursuit of higher education at the institution of their choice and to advance other educational purposes. The Monroe Foundation is a 501(c)(3) tax-exempt organization that grants scholarships to students enrolled in institutions of higher education to help defray the cost of tuition and to participate in educational enrichment activities. Grants are also provided to other worthy educational institutions and not-for-profit organizations.
ABOUT MONROE COLLEGE
Founded in 1933, New York-based Monroe College is a nationally ranked private institution of higher learning with a real-world learning approach that prioritizes hands-on academic experiences, practical and relevant academic programs, flexible learning schedules, best-in-class instructional technologies, and committed and engaged faculty to ensure that students are well positioned for career success upon graduation. Monroe is among the leading higher education institutions in the country for graduating minority students.
Monroe College offers Certificate, Associate, Bachelor's, and Master's degree programs. It has campuses in the Bronx, New Rochelle, as well as in the Caribbean nation of St. Lucia, with programs offered through its Schools of Criminal Justice, Information Technology, Nursing, Education, Business & Accounting, Hospitality Management and Culinary Arts, and Allied Health, as well as through its liberal arts and continuing education programs, and its King Graduate School. For more information and admissions criteria, please visit http://www.monroecollege.edu.