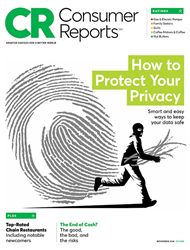 The same technology that has brought about so much convenience and connectivity can also pose a threat to consumers' safety, privacy, and financial security.
Yonkers, NY (PRWEB) September 20, 2016
Our digitally connected world provides consumers with opportunities to be engaged with global communities, be educated and entertained, and shop with ease. But those opportunities carry some risks, too—of intrusions, and threats from criminals. To help consumers stay safe online, Consumer Reports worked with dozens of security experts to put together an extensive guide covering everything from passwords for laptops and smartphones to ways to keep web-connected devices from leaking private data.
"How to Protect Your Privacy" is the cover package in the November issue of Consumer Reports, which also introduces CR's new identity and logo, as well as a fresh, more intuitive rating system designed for the digital age. The new brand identity represents the change underway at CR as the organization executes on its vision to create a marketplace that listens to, responds to, and prizes the voices of consumers by putting their needs first. The November issue hits newsstands on Tuesday, September 27, and is available now online at http://www.ConsumerReports.org.
The report's publication signals the start of CR's effort to aggressively delve into the world of data privacy--and push for stronger privacy and security protections in products and services in the marketplace.
Consumer Reports recognizes privacy and data security as among the most important consumer issues of the 21st century. Individuals' health and financial information is increasingly stored online, as are photos and communications with friends and family. At the same time, software is now becoming a core part of products that may not appear to be digitally connected: cars, door locks, thermostats, wristwatches, and more.
"The same technology that has brought about so much convenience and connectivity can also pose a threat to consumers' safety, privacy, and financial security," said Marta L. Tellado, President and CEO of Consumer Reports. "We are aggressively working alongside the brightest minds in the field to develop methods for testing the privacy and security of 'smart' products and connected services--we know that, in order to remain a trusted partner to consumers in the digital age, we have to go beyond testing the hardware. We have to test the software, too."
The past two years have been marked by news reports on data breaches, photo-hacking scandals, compromised home security cameras, ransomware attacks, and more. The package in the November issue is designed to make consumers more aware of what they can do to protect their own data privacy. Consumers don't need to follow every piece of guidance, but each one is quick, easy, and can help improve a reader's privacy and security. The package leads off with an essay by Pulitzer Prize winning journalist and author Julia Angwin, who shares the path she took in learning to protect her own privacy.
Among the security experts who contributed tips for the story are: Lorrie Cranor, chief technologist, Federal Trade Commission; Mark Surman, executive director of the Mozilla Foundation; Dan Guido, CEO of Trail of Bits, a digital security firm; Nathan White, senior legislative manager at Access Now, a digital and human-rights organization; Jeremiah Grossman, chief of security at SentinelOne, a digital-security company; and Cory Doctorow, digital-privacy activist, co-editor of Boing Boing, and author of many books, most recently "In Real Life," a graphic novel.
A nationally representative survey of 1,012 adults conducted by Consumer Reports illustrates that consumers are already taking some simple steps to protect themselves against hackers—but more needs to be done. The story notes that more than 900 million records have been compromised from more than 5,000 data breaches made public since 2005, according to the nonprofit Privacy Rights Clearinghouse.
According to CR's survey, 28 percent of respondents said they cover the webcams to help foil hackers. Forty-five percent said they backup their computers, 62 percent said they use two-factor authentication, 75 percent said they set a smartphone screen lock, and 86 percent protect their home WiFi with a password.
Consumer Reports strives to make its own privacy policies clear, concise, and actionable. CR listens to its customers, and takes the safety of their data very seriously. In its business relationships with digital companies such as Google and other third parties, CR follows best practices and strives to always act responsibly. CR's ultimate goal is for its practices to reflect the ideal marketplace it wants to achieve. While the organization isn't there yet, it will continue to innovate and champion on behalf of consumers.
Further, CR believes that consumers' personal information has tremendous value, and consumers should be able to exercise choice and control over the use of their data. When it comes to the sharing of information, consumers and companies should have a fair and open exchange, where the benefits and obligations are clear and meaningful to the consumer.
Here's a look at five of the 66 expert tips compiled by Consumer Reports:

Be Password Loyal: People tell you to change passwords regularly. Don't, unless there's a good reason, such as responding to a data breach. Switch often and you'll probably end up using weak options.
Stop ID Theft after a Death: Identity theft affects 2.5 million estates every year, according to the IRS. If a loved one has died, send a copy of the death certificate to the IRS (the funeral home may help with that). Also, cancel any driver's license, and notify credit agencies, banks, insurance firms, and financial institutions.
Shut Down Webcam Creeps: Malicious actors have repeatedly proven that they can turn on a laptop's camera without the user's knowledge. The simplest solution? Do what Facebook CEO Mark Zuckerberg and FBI Director James Comey do—put a piece of tape or a Post-it note over it. Hackers haven't yet cracked the adhesive code.
Just Fake It: Toymakers are rolling out connected kids' products—including tablets and talking dolls—and asking families to divulge personal information to register them. But that essentially provides marketers and potential hackers with details about your children. So consider providing fake information.
Encrypt Your Computer Files: You can encrypt your whole machine or just sensitive files. To encrypt specific files on a Mac, use the Disk Utility. Windows 10 Home users can download a free app such as GPG4win (aka Gnu Privacy Guard).
More information about data privacy including the full list of tips on how consumers can protect themselves, can be found in "How to Protect Your Privacy" featured at http://www.ConsumerReports.org and in the November 2016 issue of Consumer Reports magazine.
About Consumer Reports
Consumer Reports is the world's largest and most trusted nonprofit consumer organization, working to improve the lives of consumers by driving marketplace change. Founded in 1936, Consumer Reports has achieved substantial gains for consumers on food and product safety, financial reform, health reform, and many other issues. The organization has advanced important policies to prohibit predatory lending practices, combat dangerous toxins in food, and cut hospital-acquired infections. Consumer Reports tests and rates thousands of products and services in its 50-plus labs, state-of-the-art auto test center, and consumer research center. It also works to enact pro-consumer laws and regulations in Washington, D.C., in statehouses, and in the marketplace. An independent nonprofit, Consumer Reports accepts no advertising, payment, or other support from the companies that create the products it evaluates.
___________
NOVEMBER 2016
© 2016 Consumer Reports. The material above is intended for legitimate news entities only; it may not be used for advertising or promotional purposes. Consumer Reports® is an expert, independent nonprofit organization whose mission is to work for a fair, just, and safe marketplace for all consumers and to empower consumers to protect themselves. We accept no advertising and pay for all the products we test. We are not beholden to any commercial interest. Our income is derived from the sale of Consumer Reports®, ConsumerReports.org® and our other publications and information products, services, fees, and noncommercial contributions and grants. Our Ratings and reports are intended solely for the use of our readers. Neither the Ratings nor the reports may be used in advertising or for any other commercial purpose without our permission. Consumer Reports will take all steps open to it to prevent commercial use of its materials, its name, or the name of Consumer Reports®.