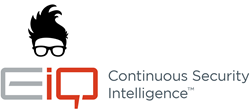 "We are very pleased to welcome our newest partners to our rapidly expanding reseller program," said Phil Demeo, Vice President of Alliances, EiQ Networks.
Boston, Massachusetts (PRWEB) September 20, 2016
EiQ Networks, a pioneer in hybrid security as a service, today announced further expansion of its channel program with the announcement of four new partners: Horsetail Technologies, Solutions4Networks (S4Nets), Technical Support International (TSI), and United Technology Group. These companies join the rapidly expanding EiQ Networks' partner program that now includes dozens of resellers serving organizations in a variety of industries, including financial services, healthcare, education, and more.
EiQ's channel program growth mirrors the rapid adoption of its SOCVue® hybrid security as a service by mid-market organizations across the U.S. In July, EiQ announced a 136 percent year-over-year increase in its customer base for Q2, 2016.
"We are very pleased to welcome our newest partners to our rapidly expanding reseller program," said Phil Demeo, Vice President of Alliances, EiQ Networks. "All four companies offer specific technical expertise and serve a diverse set of vertical markets in their respective regions. By relying on EiQ's highly trained cybersecurity analysts, along with our proven processes and technology, our partners are able to provide the best 'security as a service' at a very affordable price point to their clients."
All four partners will offer EiQ's SOCVue hybrid security as a service to improve their customers' security posture by rapidly identifying threats, mitigating risks and vulnerabilities, and enabling compliance around the clock. EiQ's newest partners include:

Horsetail Technologies, based in Baltimore, MD, is an IT Services provider that supports U.S.-based partners in highly regulated industries, such as finance and credit unions, by providing Managed Services, Solution Integration, and Cloud Management.
Established more than two decades ago, Pittsburgh, Pennsylvania-based S4Nets provides professional services and hardware to solve complex network issues and focuses on Unified Communications, Wireless Networks, Network Security, Data Centers, and Storage.
Founded in 1989, TSI is headquartered in Foxboro, Massachusetts. TSI provides a wide range of managed services to the greater New England area, including: IT Security, Cloud Services, Network Security, Back & Disaster Recovery, Governance & IT Compliance, as well as Mobile Device Management.
Founded in 2004, United Technology Group (UTG) is a Managed Services Provider (MSP) serving more than 200 companies headquartered across the Southeastern U.S. UTG provides Professional Services, Cloud Services, and Security & Compliance solutions to small and mid-sized finance, healthcare, and non-profit organizations.
For more information about the benefits of being an EiQ Networks' partner, please go to: https://www.eiqnetworks.com/partners/overview.
More About SOCVue
EiQ delivers comprehensive proactive and reactive security monitoring program to protect against modern-day cyber threats while meeting regulatory mandates. EiQ's SOCVue Security Monitoring and SOCVue Vulnerability Management services combine the best people, process, and technology for an enterprise-class IT security program:
EiQ's SOCVue Security Monitoring service gives customers visibility and control over their IT environment with around-the-clock threat detection, analysis and notification, proactive remediation guidance, and compliance auditing.

EiQ's SOCVue Vulnerability Management service uses Qualys technology to mitigate risk with unlimited scans, analysis, and remediation guidance – so customers can focus on what matters most: their core business.
SOCVue gives customers the flexibility and cost savings of a Security-as-a-Service offering, and also provides a world-class team of security and technology experts to manage the technology around the clock and help implement cybersecurity best practices. SOCVue enables organizations to:

Reduce the cost of purchasing and maintaining complex IT security solutions
Supplement existing IT staff with cybersecurity experts from EiQ's 24x7x365 Security Operations Center (SOC)
Improve their IT security posture through proactive security monitoring and vulnerability assessment
Help meet compliance requirements such as PCI DSS, HIPAA, FFIEC, GLBA, and more
About EiQ Networks
EiQ, a pioneer in hybrid security as a service, is transforming how mid-market organizations build enterprise-class security programs. Acting as an extension of our customers' IT teams, EiQ provides continuous security operations based on best-of-breed technology at a fraction of the cost of alternative solutions. EiQ is a trusted advisor to organizations that need to improve their IT security and compliance posture and protect against cyber threats and vulnerabilities. For more information, visit: https://www.eiqnetworks.com.