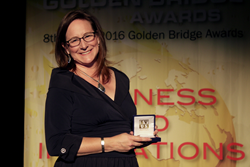 San Mateo, CA (PRWEB) September 20, 2016
Fortscale Security has earned the prestigious bronze status in the Golden Bridge Awards® for their user behavior analytics (UEBA) solution. The coveted annual Golden Bridge Awards program encompasses the world's best in organizational performance, innovations, products and services, executives and management teams, women in business and the professions, innovations, best deployments, product management, public relations, marketing, corporate communications, international business, and customer satisfaction programs from every major industry in the world. Organizations from all over the world are eligible to submit nominations including public and private, for-profit and non-profit, largest to smallest and new start-ups.
Fortscale Security is the innovative pioneer in machine-learning-based user behavior analytics for security (UEBA) and also named to the list of "Cool Vendors" by Gartner, Inc. The latest release of its flagship product features new user experience that makes it easier for security professionals to find and stop insider threats automatically.
"This Golden Bridge Award is a testament to the ongoing innovation by the Fortscale team to build products that detect insidious insider security threats," said Lynn Strand, Vice President of Marketing. "It's an honor to accept this award on their behalf."
About the Golden Bridge Awards
Golden Bridge Awards are an annual industry and peers recognition program honoring best companies in every major industry from large to small and new start-ups in North America, Europe, Middle-East, Africa, Asia-Pacific, and Latin-America, Best New Products and Services, Best Innovations, Management and Teams, Women in Business and the Professions, Case Studies, Customer Satisfaction, and PR and Marketing Campaigns from all over the world. Learn more about The Golden Bridge Awards at http://www.goldenbridgeawards.com
About Fortscale
Fortscale ends insider threats with a totally new generation of autonomous, rule-free user and entity behavior analytics based on machine learning. With no rules to set up, Fortscale's analytics engine starts getting smarter the second you turn it on. Fortscale models your users and systems autonomously, on-the-fly. Fortscale spots anomalous behavior quickly, accurately and doesn't need constant "babysitting." It might sound like magic, but it's mostly just really good math – and only Fortscale has it. Backed by Intel Capital and Blumberg Capital, Fortscale ends insider threats, lowers analyst stress-levels and makes your whole security operation work a whole lot better. For more information, visit fortscale.com.