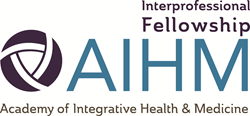 A brighter future of health care requires a shared vision and clinicians who have been trained to work together in order to promote and restore the health of our people.
San Diego, CA (PRWEB) September 20, 2016
Citing a mission to transform health care by bringing together practitioners from diverse clinical backgrounds such as medical doctors, chiropractic physicians, pharmacists, nurses, and doctors of traditional oriental medicine, the Academy of Integrative Health & Medicine (AIHM) formed the first interprofessional fellowship fifteen months ago. The ambitious vision brought together world-class faculty, including Neil Mann, PhD, Brad Jacobs, MD, Lise Alschuler, ND, Gerry Curatola, DDS, and dozens of others for curriculum development. To support extraordinary clinicians working with underserved communities and to achieve the program's directive of professional diversity through scholarships, the Academy sought philanthropic investment. This August, because of donor support, AIHM launched the second full interprofessional class with over 50 percent of the Fellows securing scholarships, an unprecedented figure.
AIHM Education Director, Tieraona Low Dog, MD, issued the following statement thanking donors:
"A brighter future of health care requires a shared vision and clinicians who have been trained to work together in order to promote and restore the health of our people. Through rigorous interprofessional training, AIHM Fellows are setting a new standard of care and are positioned to transform their practices, communities and ultimately, the broader healthcare system. We believe that every community deserves access to integrative health and medicine and practitioners who listen and connect the dots. They deserve clinicians who know how to work in partnership and with a team.
"Scholarships are the mechanism by which we can attract the highest caliber of practitioners to our program and the Academy can ensure greater access to integrative health and medicine. Our scholarships are merit-based with special consideration for those working in underserved areas and facilitate representation from diverse professions.
"Thanks to the remarkable generosity of our donors and corporate supporters, the gift of interprofessional training will impact the lives of our recipients and the thousands of individuals and families they serve each year in their communities."
The Academy extends special congratulations to three AIHM Fellows who reached a distinguished level of achievement with named scholarships:
1. Denise Spector, NP, Natural Partners Scholarship Winner
2. Kimberly Douglas, MD, Integrative Therapeutics Scholarship Winner
3. Winnie Reeve, FNP, AIHM Director's Scholarship
The AIHM Scholarship program awards funds each fall and spring term. The August 2016 awards were made possible by the generous support from AIHM Founding Fellowship Supporters, including the Simms Mann Family Foundation, the Westreich Foundation, the MIRAGLO Foundation, Integrative Therapeutics and the Taylor Family Foundation. Additional support has been provided by the Council for Responsible Nutrition (CRN) and Natural Partners.
Dr. Victoria Mann Simms, Founder and President of the Simms/Mann Family Foundation says, "As longtime supporters of integrative health and medicine, we see interprofessional education as a critical pathway to change. The AIHM Fellowship is leading the way and we are excited to invest in scholarships to ensure that the very best practitioners from diverse disciplines come together to learn and train in community. This, we believe, is how transformation happens, when all healing traditions have a seat at the table."
New scholarships are available for the next AIHM Fellowship class, which begins February 2017. For more information on the AIHM Fellowship, scholarships, or creating a named award, please contact the AIHM Fellowship team at fellowship(at)aihm(dot)org or (858) 240-9033 x 1000.
AIHM staff is available for interviews related to the movement of integrative health and medicine and how it seeks to transform the current healthcare landscape. Contact us at press(at)aihm(dot)org and/or consider attending the AIHM Annual Conference the week of Oct. 30 – Nov. 3, 2016 in San Diego, CA.