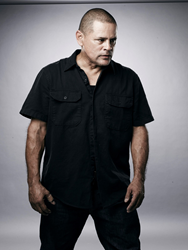 San Jacinto, CA (PRWEB) September 20, 2016
In conjunction with their promotion "Soboba Pad" in which Soboba will be giving away over $183,000 in cash and prizes including a 2016 class A Winnebago luxury RV, 'Breaking Bad" and "Better Call Saul" guests will have the chance to meet Raymond Cruz before the grand prize drawing on September 24th, and it is free for all Club Soboba members.
On August 13, 14, 20, 21, 27, 28, September 10, 11, 17, 18, and 24 several guests will take home a piece of the $183,000 stash. One winner will be drawn every half hour from 4 PM - 9 PM to play the "Soboba Pad" game for the chance to win up to $2,000 in Free Slot Play and their own personal "burner" pre-paid cell phone each day. Plus each winner will receive one entry into the grand prize drawing.
"We are thrilled to have one of the most recognizable stars of such a legendary pop culture phenomenon that was "Breaking Bad" and now "Better Call Saul" joining us," remarked Michael J. Broderick, Director of Marketing at Soboba Casino. "You will be hard pressed to find someone who is not a raving fan of Mr. Cruz's work on those shows or one of his intensely portrayed characters from his many well-known roles on television or on the big screen over the past two decades. Who can forget the part he played in the 2001 movie "Training Day" opposite Ethan Hawk and Denzel Washington. His scene stealing moment in the kitchen playing poker opposite Hawk's rookie cop character was so memorable and fearsome, people still remember and talk about it today. We are pleased to have the talented Raymond Cruz bring the excitement of "Breaking Bad" and all of his memorable roles to the Soboba Casino floor!"
To enter, players must earn 250 points between 12:01 AM on August 1st through 8:59 PM on September 24th. Then swipe their Club Soboba Card at any promotional kiosk between 3:00 PM and 8:59 PM each promotional day to activate their entries into the drawing.
To get a free picture with Raymond Cruz and an autographed photo (first come, first served while supplies last), guests with a Club Soboba Card can come down on September 24th from 4 PM – 9 PM. If you do not have a club card don't worry, sign up is quick and easy. Guests must simply swipe their club Soboba card at any promotional kiosk to receive their meet and greet pass. All guests must be 21 and over to participate.
Soboba Casino features approximately 2,000 of the newest, hottest slot machines, an expansive and modern non-smoking room, 20 classic gaming tables featuring all your favorite card games, and a large outdoor event arena which easily accommodates over 10,000 people. Need to recharge & refresh? Visit the cozy Soboba Cafe and Coffee Kiicha, or experience AC's Lounge with full cocktail bar and three giant HD flat screens including the "Sobobatron", the Inland Empire's biggest HD video wall.
Soboba Casino is proudly owned and operated by the Soboba Band of Luiseno Indians. Come join us for all the fun and then some! Soboba Casino. Where Everybody Goes to Play! For more information visit: https://soboba.com
Soboba Casino: 23333 Soboba Road, San Jacinto, CA 92583, (951) 665-1000