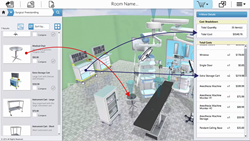 We're providing HTC Vive gear for attendees to virtually explore an operating room and interact with configured medical equipment, storage carts, tables, lights, and more.
Las Vegas, Nevada (PRWEB) September 21, 2016
Axonom, a global provider of cloud-based visual configure-price-quote (CPQ) software, today unveils 3D product configurations with virtual reality experience for ordering medical equipment and designing operating rooms at the OR Manager Conference at Caesars Palace, Las Vegas, Nevada.
Business leaders are urged to visit booth 1024 in the Forum Ballroom for leading-edge strategies and hands-on product demonstrations on Axonom's CPQ suite that includes Powertrak 3D Product Configurator and Virtual Reality Product Configurator. These solutions empower users to visually and interactively design surgical suites, quote and order configurable medical products, and experience immersive virtual reality environments.
"We're offering Medical Equipment manufacturers a visual sales and marketing solution to empower its prospective customers and partner channel to visualize, design, price, and buy make-to-order medical products," said Mike Belongie, COO at Axonom. "When the design is complete, users invite key stakeholders to operate configured product(s) and explore medical procedure rooms through virtual reality."
OR Manager Conference brings together 1,400 managers, directors, and other business leaders of the surgical suite for three days to learn, share best practices, and connect with solution providers. "We're providing HTC Vive gear for attendees to virtually explore a designed operating room and interact with storage carts, tables, lights, and other medical equipment," said Belongie.
Powertrak 3D Product Configurator is a visual design-to-order system with interactive drag-and-drop technology that makes complex product configurations easy to grasp and fun to use. It encourages partners, resellers, and customers with little-to-no knowledge of the product(s) to become less apprehensive and more engaged in the designing and ordering process.
Medical Equipment manufacturers leverage Powertrak VR Product Configurator to augment the ordering experience and help sales reps, dealers, and distributors convey key attributes and benefits of their products in ways that words and static pictures alone could never achieve.
Belongie adds, "Consumers demand to see what they're buying prior to completing the order. Powertrak CPQ takes the 'full ordering experience' a step further by demonstrating product movement, rotation, and attachment. In doing so, visual configurations and virtual reality combine to connect everyone involved to the product and strengthen the relationship between users, stakeholders, and the brand."
About Axonom
Axonom is an independent software vendor that develops, designs, and markets Powertrak, the innovative B2B revenue management suite for high-tech and manufacturing industries. Powertrak CPQ enables companies to successfully sell and service to its customers and partners in an environment that requires multi-level relationship tracking, web self-service, partner/dealer loyalty management tools, streamlined quote-to-order processing, service revenue management, hassle-free payment options, and a worldwide presence. For more information, please visit http://www.axonom.com.