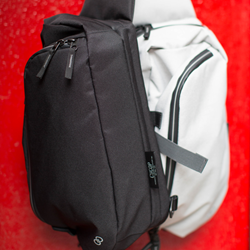 It's not meant to carry everything. There are plenty of big bags out there. The truth is, many of us don't want to lug around things we'll never use. Let's declutter and focus on the essentials. -Kuni Chen, Director
San Jose California (PRWEB) September 21, 2016
Cycop's new DaySlingTM is set to hit Kickstarter Wednesday, September 21 at 6 AM PDT, 9 AM EDT, 2 PM BST.
Easy access, Expandable capacity that adjusts to customer's cargo and ultra-quiet,and non-Velcro Whisper Closures make DaySling the go-to modern day pack.
DaySling shows excellent layout to let customer to access their stuff easily. No matter what customers've packed, customer will be able to find it, access it without removing pack.
Whether people are carrying a simple sketchbook or hauling trail shoes and climbing rope, customer will want a pack that fits needs. DaySling accommodates for this with its expandable design. Unlike traditional compression straps that simply scrunch the bag tighter, DaySling offers a folding zip-opening that compacts neatly with full-metal cinch hooks. Not only does DaySling feel better, a properly weighted pack supports healthy carrying practices.
How many bags use noisy, Velcro-like fasteners? The DaySling bids farewell with the introduction of Whisper Closures. Whisper Closure is soft, quiet and add just enough tack for gentle fastening. Gone are the days screechy disturbances on the trail or in the office.
"Watching people experience the new Whisper Closures is quite a thrill. They've never seen anything like it before," says Kuni Chen, founder of CYCOP.
How to get one?
DaySling will launch on Kickstarter, Wednesday, September 21 at 6 AM PDT, 9 AM EDT, 2 PM BST.
Media Assets, just click HERE
Feature Details:
Easy Access & Organize
There's no need to hunt for gears. DaySling's light interior and well-design compartment layout makes it easier to see stuff. Plenty of pockets let people organize. Step it up a notch with Whisper Pods, smaller travel pods that fit into the DaySling.
Expand it from 6L to 13L
DaySling can be shrunk to 6L or expanded to 13L, effectively doubling storage capacity. It's able to carry enough for a day or two without weighing you down.
6L: think a tablet with a few notebooks
13L: add a pair of shoes, toiletries and a change of clothes
Enjoy Silence
Don't be the screechy Velcro guy. Instead, subtly retrieve secured belongings with Whisper Closures, a soft, connecting fabric.
Get Splashed
DaySling lets users carry gear without fear of a rain splash. Water-resistant and fabrics have users covered.
Keep it safe
Carry passport like a ninja. There are several hidden pockets in this sling. One on the inside and two on the outside.
About Cycop
Cycop is an urban lifestyle brand that seeks harmony in populated environments. The name comes from "City of Co-optimality."
Cycop first appeared on Kickstarter in 2015 with the BiTool (pronounced bit-tool), a compact ratchet set for cyclists. Their design model is centered more around a lifestyle rather than being restricted to specific categories.