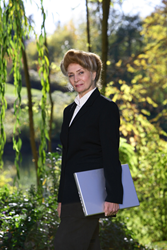 Grants Pass, OR (PRWEB) September 20, 2016
Water Life Science® advocate Sharon Kleyne, host of The Sharon Kleyne Hour Power of Water radio program, followed up on her support of the clear water-ravaged city of Flint, Michigan by calling on Donald Trump, Hillary Clinton and other presidential candidates to support new water research and advanced water technology to revive Flint and prevent future water disasters.
"When Donald Trump pointed out that we used to buy cars in Flint and avoided drinking the water in Mexico, but now we buy cars in Mexico and can't drink Flint river water, he gave us all a wake-up call," said Kleyne. "Now all the candidates need to gather at the river and come up with comprehensive water plans," Kleyne continued. "Water research should be the number one priority of infrastructure planning throughout the U.S., and really, all over the world," Kleyne added.
With the Flint water crisis calling ever greater attention to the global water crisis, Kleyne believes that candidates entering the presidential election cycle's home stretch will strive to trump one another as they develop their own comprehensive water plans. "They have to focus on water," Kleyne said, "before they do anything else." Kleyne pointed out that water is already the number one investment in the world.
Kleyne, the founder of Bio-Logic Aqua® Research Water Life Science® who also discovered a rare Trade Secret tissue culture grade water in Oregon, explained how water vapor in the air makes life possible on earth. "If we destroy the water vapor in the air," Kleyne warned, "we will not be able to live because we are mostly water." Kleyne went on the explain how the eye lens is 99 percent water; the brain is 80-85 percent water; the lungs and liver are 70-80 percent water; the blood is 50 percent water; even the bones are 20 percent water. "We are fluid." Kleyne said. "Everything around us is made of water. Hope doesn't keep us alive; the atmospheric water vapor does that."
Kleyne's clarion call for water research, which received a boost from Trump's visit to Flint, is rapidly swelling, finding supportive scientists and entrepreneurs around the world. "As more and more people become educated about water," Kleyne said, "we get closer to and closer to deeper water research and comprehensive, long-term water plans and goals. We must do this to product our precious water resources, and our political leaders should lead the way.