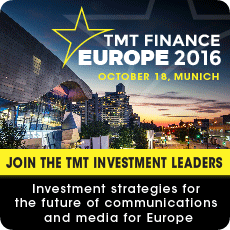 The Telecity-Equinix deal of course has been the biggest one but this only means the rest of the market will continue to consolidate further.
Munich, Germany (PRWEB UK) 20 September 2016
Internet infrastructure and datacentre providers, including key leaders from Amazon, Vodafone, Interoute and Tele2, will meet investment bankers, investors and advisers in Munich on October 18 to discuss accelerating regional consolidation as part of TMT Finance Europe 2016.
Mergers and acquisitions of enterprise cloud infrastructure and datacentre operators have been increasing fast across Europe with a number of high profile deals in this space over the last 12 months, and more predicted, according to TMT Finance. As such, Enterprise Cloud Consolidation will form a key theme for this year's TMT Fnance Europe event.
Stand out deals include Equinix's E3.7bn acquisition of Telecity; Digital Realty's US$874m takeover of eight Telecity and Equinix datacentres, Interoute's E471m acquisition of Easynet and Datapipe's c. E140.8m acquisition of UK managed service provider Adapt.
"The European cloud, hosting and datacentre markets have seen quite a lot of deal activity, specifically in the UK and France" commented one investment banker attending the event. "The Telecity-Equinix deal of course has been the biggest one but this only means the rest of the market will continue to consolidate further."
Private equity investors have also been increasing their exposure to the sector, anticipating further M&A, with KKR and Towerbrook recently investing E250m in French datacentre company OVH and Keensight Capital investing E50m in French hosting company Linkbynet, the larger of equity based investments and financing rounds says TMT Finance.
"Growth in this sector is predominantly through acquisition. Due to the lack of available sites and infrastructure, organic growth especially in markets such as the UK is very difficult," said a banker attending the event.
TMT Finance Europe 2016 gathers key regional telecom, media and technology leaders, investment bankers and advisers to assess investment strategy and opportunities. As well as Enterprise Cloud and Datacentre Consolidation, other key session themes include Telecoms M&A, Investing in Digitial Innovation, Mobile Infrastructure and Financing TMT.
Now in its fourth year, the event will feature over 60 speakers on 25 sessions including C-level executives from Telefonica, Tele2, Telekom Austria, Amazon, Play, VimpelCom, Vodafone, M7, Cellnex, Emitel, Beyond, Engage Sport Media, Linklaters, Wooga, HandyGames, Credit Agricole, Dentons, Index Ventures, UFA Sports, CEE Equity Partners, HgCapital, JP Morgan, Raiffeisen, Societe Generale, Deutsche Bank and ING.
TMT Finance is the leading news and events provider for telecom, media and tech executives active in mergers and acquisitions, financing strategy and investment globally.
For more information, go to http://www.tmtfinance.com/europe/