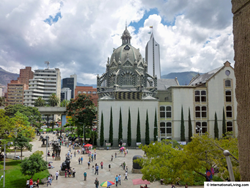 In South America right now, International Living editors have pinpointed 11 great-value escapes where expats can live well on as little as their Social Security benefits alone.
Baltimore, MD (PRWEB) September 28, 2016
For anybody threatening to leave the U.S. post-election, take heart: There are good options overseas today. Celebrities keep saying they'll dash to Canada or New Zealand. But better-value, better-weather options exist south of the U.S. border.
In South America right now, International Living editors have pinpointed 11 great-value escapes where expats can live well on as little as their Social Security benefits alone.
Plus, these towns also offer a relaxed lifestyle, established expat communities, friendly and welcoming locals, good healthcare, and great climates.
For example, International Living Colombia Correspondent Nancy Kiernan says that, working with a monthly budget of about $2,200, a couple can afford a comfortable life in Medellin. That budget takes into account a three-bedroom apartment in one of the most sought-after areas of the city, which costs $1,250 a month, monthly utility bills of just over $100, and even a twice weekly maid service coming in at $120.
Likewise in Loja, Ecuador, International Living Correspondent Jim Santos says that expat couples report being able to live very well on a budget of $1,000 a month, which includes renting a modern, furnished, three-bedroom, two-bathroom condo for $450. But if that seems like an excessive amount of space, there are also two-bedroom, one-bathroom apartments available for $350. On the flip-side, a couple could live a more lavish lifestyle, such as eating out most nights of the week, and still get by on a monthly budget of $1,500.
International Living's interactive map is designed to point potential expats to the specific communities in South America where they can find the best bang for their buck today.
Compiled by International Living's team of expat correspondents and editors based in South America, it identifies the towns, cities, and villages most worthy of attention right now for anyone looking for a good-value, low-cost life overseas... and a post-election escape, as well.
Affordability figures prominently in the criteria used to select these great-value towns. But in addition to the cost of living, other important attributes help make a place comfortable and attractive for day-to-day living, including: ease of integration; access to quality medical care; a comfortable climate; good infrastructure; proximity to amenities like beaches, entertainment venues, natural wonders, and more.
Explore International Living's interactive map of South America at: The Best Towns and Cities in South America Where You Can Live on Your Social Security.
Editor's Note: Members of the media have permission to reproduce the article linked above once credit is given to InternationalLiving.com.
For information about InternationalLiving.com content republishing, source material or to book an interview with one of our experts, contact Associate Editor Carol Barron, 772-678-0287 (US), CBarron@InternationalLiving.com or visit the Media Center.
For 36 years, InternationalLiving.com has been the leading authority for anyone looking for global retirement or relocation opportunities. Through its monthly magazine and related e-letters, extensive website, podcasts, online bookstore, and events held around the world, InternationalLiving.com provides information and services to help its readers live better, travel farther, have more fun, save more money, and find better business opportunities when they expand their world beyond their own shores. InternationalLiving.com has more than 200 correspondents traveling the globe, investigating the best opportunities for travel, retirement, real estate, and investment.