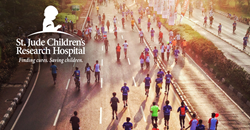 This is a wonderful opportunity to engage in a team-building exercise while supporting a great cause.
Tampa, FL (PRWEB) September 21, 2016
September is Childhood Cancer Awareness Month, and 4th Source is joining the cause.
The Tampa St. Jude Walk/Run to End Childhood Cancer begins at 8 a.m. on Saturday, Sept. 24 at Amalie Arena. It will be one of sixty-one communities across the country to support St. Jude Children's Research Hospital ® this month. 4th Source has assembled a team of ten participants under the name 4thSource4StJude.
"This is a wonderful opportunity to engage in a team-building exercise while supporting a great cause. We are a tight corporate family who have been blessed with many healthy, beautiful children and this is one way that 4th Source feels very compelled to give back to our community."
~Cindy Baum, Team Captain
Rallying behind the team, 4th Source has been able to surpass their fundraising goal to help the Tampa community, which has raised over $176,000 so far, but the fight against cancer isn't only once a year.
Support the St. Jude walk/run by visiting 4th Source's team site, 4thSource4StJude
How donations help St. Jude patients and patient families:

Families never receive a bill from St. Jude for treatment, travel, housing and food — because all a family should worry about is helping their child live.
Treatments invented at St. Jude have helped push the overall childhood cancer survival rate from 20 percent to more than 80 percent since it opened more than 50 years ago.
About St. Jude
The mission of St. Jude Children's Research Hospital is to advance cures, and means of prevention, for pediatric catastrophic diseases through research and treatment. Consistent with the vision of founder Danny Thomas, no child is denied treatment based on race, religion or a family's ability to pay. Join the cause to end childhood cancer by donating here.
About 4th Source:
4th Source provides a path to digital strong with powerful, cost-effective IT services. Our dedicated US-based and nearshore teams are part of a unified culture of service excellence, and are highly skilled in end-to-end IT and development services. 4th Source has been recognized by Inc. magazine as one of the 5000 fastest growing companies in America six times.