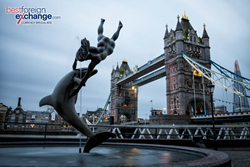 The weaker pound and widespread security concerns elsewhere make London a far more attractive destination for tourists this upcoming autumn
London, UK (PRWEB UK) 26 September 2016
The situation is not entirely dire for the United Kingdom, following the monumental Brexit decision. While the decline in the value of the pound has made it more expensive for British citizens to leave, tourist arrivals in the UK have surged dramatically. Over 3 million additional tourists have been reported by The Express on 8th August. Travel bookings indicate more than 1.5 million new tourist arrivals from Europe, plus an encouraging 8 percent increase in interest from outside the European Union.
While the Pound sterling slump initially alarmed the world, the timing could not be more opportune for travellers and companies like Thomas Exchange Global Limited, who offers international currency exchange services.
Trevor Samuel, Senior Manager at Thomas Exchange Global Ltd., states: "London is already one of the most visited cities. The weaker pound and widespread security concerns elsewhere make London a far more attractive destination for tourists this upcoming autumn."
Tourists are not only travelling to the UK, but are spending copious amounts of money throughout the duration of their travels. Thomas Exchange Global has a unique opportunity to capitalize on this tourism boom, while offering the most competitive exchange rates when converting foreign bank notes to pound sterling. Thomas Exchange Global benefits from widespread coverage, with 11 branches strategically located throughout London near main transport hubs and the business and shopping districts.
Samuel continues: "We deal with over 120 types of foreign bank notes, nearly twice what our nearest competitors offer. Furthermore, we do not charge any commission. All live rates are displayed at each individual branch. Tourists will never worry about being ripped off."
For further details about Thomas Exchange Global or its currency exchange services, please visit http://www.thomasexchangeglobal.co.uk, or call 020 7240 1214.
About Thomas Exchange Global
As dedicated foreign exchange specialists, Thomas Exchange Global has the professional expertise, in depth market knowledge, technological infrastructure and commitment to provide an unprecedented level of service that sets the standard in the foreign exchange industry. They are specialists in all areas of foreign exchange. They provide commission free currency as well as travellers cheques.
Thomas Exchange Global also offers International Money Transfer Service where funds can be remitted to overseas bank accounts within one to two days. With commission free service for transfers over £10,000 backed by competitive exchange rates, customers are assured of a better deal and a substantial saving compared to banks and money brokers. Thomas Exchange Global branches are located at Strand, Embankment Victoria Street, Victoria Place (Victoria Rail Station) Liverpool Street, Hammersmith, Cannon Street, Wormwood Street, Canary Wharf and Richmond and High Street Kensington.