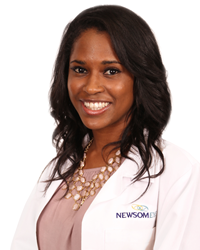 Tampa, FL (PRWEB) September 21, 2016
Newsom Eye & Laser Center ("Newsom Eye") is proud to announce that Jessica Forde, OD is joining the practice. Dr. Forde is a board certified optometrist who specializes in primary eye care, including pre-operative and post-operative cataract and LASIK care, and the treatment and management of ocular diseases such as dry eye and glaucoma.
Dr. Forde earned her Bachelor of Chemistry from the University of South Florida in Tampa. She earned her doctorate degree in 2016 from Salus University in Pennsylvania. Dr. Forde also completed several internships at highly acclaimed institutions, including The Eye Institute in Philadelphia, the Braverman Eye Center in Hallandale, and Broward Eye Care in Fort Lauderdale. Dr. Forde is also a member of the American Optometric Association.
Dr. Forde began her career in the field of optometry with Newsom Eye as a technician. She was very passionate about her work and was quickly promoted to primary scrub technician in the operating room. The Newsom Eye family encouraged Dr. Forde to pursue further education and training to become an optometrist. Newsom Eye is honored to welcome her back as a full time physician joining its team of highly trained specialists to provide patients with their primary eye care needs. Dr. Forde's unwavering attention to patient care will easily establish warm and trustful relationships.
Dr. Forde is now available to see patients at Newsom Eye's Sebring location. The practice is located at 4211 US Highway 27 N in Sebring. To make an appointment with Dr. Forde, please call (863)385-1544 or visit NEWSOMEYE.com.
About Newsom Eye & Laser Center
Established in 2001 by T. Hunter Newsom, MD, Newsom Eye is a multi-specialty ophthalmology practice offering complete eye care, from routine eye exams to complex ocular surgery. The practice operates from three clinical locations in Sebring and Tampa. These clinical locations are supported by onsite, fully equipped AAAHC-accredited outpatient surgery centers. The practice also features a complete optical and audiology department.
Newsom Eye prides itself with providing the highest standards in patient care through state-of-the-art technology and customer service. Newsom Eye has been awarded many accolades, including "Best Eye Surgeon, Best Eye Doctor, and Best Eye Clinic" by Highlands Today's "People's Choice".
Dr. Newsom has long been considered one of the leading innovators in the field of ophthalmology. Board Certified by the American Board of Ophthalmology, Dr. Newsom, specializes in cataract and LASIK surgery, and continues to bring a wealth of experience, awards, and research to the Newsom Eye practice. His invention of the Newsom Bladeless Laser Cataract Surgery Technique has earned him international acclaim, and he has been selected as the Principal Investigator in several FDA studies.
To learn more, or to schedule an appointment, visit NEWSOMEYE.com. Remember… You deserve NEWsom EYES!