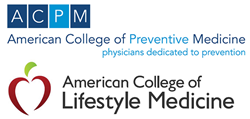 The topics covered, along with the evidence base, represent everything physicians didn't learn in medical school and residency training.
Washington, DC (PRWEB) September 20, 2016
On September 28, physician leaders will host a teleconference for press and media providing an in-depth introduction to the new Lifestyle Medicine Core Competencies Program, the first medical curriculum to comprehensively addresses the knowledge and skill gaps doctors themselves cite as major barriers to counseling patients about lifestyle interventions.
Press must register by September 27 to participate on the call to be held 12:00–1:00 p.m. EDT on September 28, 2016. Call in details will be provided to registered participants.
The education program helps establish a new standard for primary care focused on disease prevention, health promotion, and care coordination—all aspects of value based care being advanced as part of the Medicare Access and CHIP Reauthorization Act of 2015 (MACRA). These new requirements will require physicians to redefine their role in health by increasingly counseling patients on lifestyle choices and prescribing behavioral interventions.
"The topics covered, along with the evidence base, represent everything physicians didn't learn in medical school and residency training," said Liana Lianov, MD, MPH, program faculty and call participant. "As the first comprehensive learning tool in lifestyle medicine and a catalyst moving the health system toward patient-centered preventive care, the program gives practitioners the resources to invest in behavior modification and lifestyle prescriptions with their patients."
Developed by the American College of Preventive Medicine (ACPM) and American College of Lifestyle Medicine (ACLM), the curriculum is built on the core competencies of lifestyle medicine as identified by an expert panel of medical specialty societies (listed below) and published in the cornerstone JAMA article "Physician Competencies for Prescribing Lifestyle Medicine" in 2010. Physicians taking the course will incorporate these competencies and therapeutic techniques into their practice, covering topics such as nutrition, physical activity, weight management, stress reduction, sleep health, behavior change, alcohol use, tobacco cessation, and others.
Physician leaders affiliated with the program who will participate on the call include:
● Daniel Blumenthal, MD, MPH, FACPM, President, ACPM
● David L. Katz, MD, MPH, FACPM, FACP, FACLM, President, ACLM
● Liana Lianov, MD, MPH, FACPM, FACLM, past president of ACLM, former ACPM Board member and the project's Director of Faculty
● Wayne Dysinger, MD, MPH, FACPM, Chair, Department of Preventive Medicine, Loma Linda University
● Dexter Shurney, MD, MBA, MPH, Chief Medical Director / Executive Director Global Health and Wellness, Cummins, Inc., President-elect, ACLM
Discussion on the teleconference is expected to cover:
● Why lifestyle medicine and related medical education is critical for improving physician–patient interactions, care coordination, and overall health outcomes;
● How a diverse group of physician experts came together to establish physician competencies in lifestyle medicine and develop this innovative new curriculum;
● How this program will better prepare physicians to succeed under new MACRA and MIPS reimbursement rules from the Center for Medicare and Medicaid Services;
● How businesses—including a Fortune 500 company—and healthcare providers will be using the curriculum to educate their workforce;
The program—to be launched following the teleconference—will be available for physicians, nurses, nurse practitioners, physician assistants, dietitians, health coaches, and other allied health professionals in all specialties with an interest in learning the basic principles of lifestyle medicine.
Lifestyle medicine is a branch of evidence-based medicine in which comprehensive lifestyle changes are used to help prevent, treat, and reverse the progression of many chronic diseases by addressing their underlying causes.
For additional information about the teleconference, contact Danielle Pere, ACPM Associate Executive Director, at lmccinfo(at)acpm(dot)org or (202) 466-2044 x105. More information regarding the program is available on the ACLM website and ACPM website.
Jointly led by ACPM and ACLM, the Blue Ribbon Panel of specialty medical societies included the American College of Physicians, American Academy of Family Physicians, American Academy of Pediatrics, American Osteopathic Association, American College of Sports Medicine, and American Medical Association.
The American College of Preventive Medicine (ACPM) is a professional society for preventive medicine physician specialists who are uniquely trained in both clinical medicine and public health, and equipped to understand and reduce the risks of disease, disability, and death in individuals and in population groups.
The American College of Lifestyle Medicine (ACLM) is a professional society for physicians and medical professionals dedicated to the advancement and practice of lifestyle medicine as the foundation of a transformed and sustainable healthcare system.