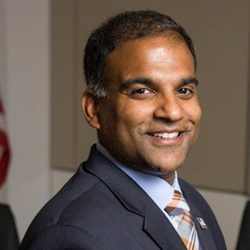 TYSONS CORNER, VA (PRWEB) September 20, 2016
Octo Consulting Group (Octo), an award-winning provider of mission critical technology and digital services to the Federal marketplace, has appointed Sujey Edward as the company's Chief Technology Officer. In this capacity, Edward will be leading Octo's IT strategy and implementation teams that help the government find the balance needed between introducing technology innovation and maintaining mission focus and capabilities. Edwards will report to Octo Founder and Chief Executive Officer (CEO) Mehul Sanghani.
"As the government continues to seek innovative IT solutions, we're thrilled that Sujey is joining our team to provide some of the most creative technical approaches for our customers," said Sanghani. "Over the course of his career, Sujey has brilliantly honed his technical experience and leadership capabilities putting forth some of the first agile approaches that were instrumental in helping government agencies minimize risk, honor their fiscal and mission responsibilities, and manage change within their agency."
Edward brings almost 20 years of Government IT experience to Octo. Prior to joining Octo, he was the Vice President of Salient CRGT's Agile Innovation Center and Agile Center of Excellence where he managed large scale agile systems development programs for agency customers. For nearly ten years, Edward leveraged his key technical insights to help Salient's customers understand real ROI and weave competing priorities such as reporting, legislation, and Congressional oversight, to provide the right technology solutions at the right times.
Prior to Salient, Edward spent an additional ten years in IT leadership positions for firms such as SAIC, Conquest Systems and Soza and Company developing and implementing creative systems and modernization programs for different agencies.
"I take great pride in joining a team that understands how to be a true partner to the Federal government, " said Sujey Edward. " Octo offers innovative technology approaches, along with proven IT acumen that drive the organizational culture shift it takes to modernize and transform agencies to better meet their mission. It's through this lens that we can disrupt the market with innovation, but without disrupting our customers' missions."
About Octo Consulting Group
Octo is an industry-leading, award-winning provider of digital services for the Federal Government. Octo specializes in providing agile software development, user experience design, and cloud engineering services that address the government's most pressing missions and modernization challenges.
Octo is one of only 11 private companies in the United States to have been appraised at CMMI® Level 4 for Software Development Maturity (CMMI-DEV constellation). In addition, Octo also maintains ISO 9001:2008, ISO 20000:2013, and ISO 27001:2013 certifications and is one of only seven government contractors that is a Scaled Agile Framework (SAFe) Gold Partner: an industry-accepted framework for developing software applications using Agile development principles.
Headquartered in Tysons Corner, Virginia, Octo has additional offices in Alexandria, Virginia and Atlanta, Georgia.