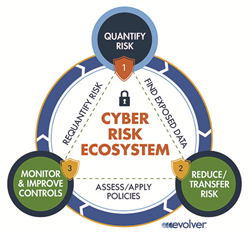 Bill Sabo, CEO of Evolver said, "Many executives are taking a deeper dive into our Ecosystem to see how they can protect their organizations." Sabo continued, "For them the largest benefit is being able to make business decisions based on Value at Risk."
Reston, VA (PRWEB) September 21, 2016
Evolver, Inc., a technology provider for Federal, Commercial and Legal clients announces their revolutionary approach to cybersecurity through their Cyber Risk Ecosystem. For executives seeking to manage their cybersecurity programs based on dollars and cents, instead of fuzzy terms such as "high, medium, low" or "increased threat" reports, Evolver quantifies cyber risk and drives the risk numbers throughout the entire cybersecurity process.
This information security approach directly ties the cyber expenditures to the core business functions, reducing business risk and providing logical and defensible plans and actions that C-level staff can understand, implement, and measure.
Evolver's Ecosystem helps executives make critical business decisions such as:

Technology investment tradeoff analysis
Risk mitigation strategy and implementation steps
Cyber insurance level and policy structure review
Continuous security operations value assessments
Cloud cost savings versus cyber risk calculation
Cyber is no longer a technical issue, it is a business issue. In Evolver's whitepaper: "The Cyber Brief is No Longer the Boring Part of a Board Meeting", Chip Block, Vice President, discusses how everyone is now engaged in the cyber discussion. It encompasses insurance, liability, risk management and total cost of ownership.
Evolver's Ecosystem reduces risk by identifying, measuring and valuing cyber risk in financial terms; identifying data that may already be at-risk, and managing and monitoring cyber regulations and threats. These solutions are augmented by services including authentication, anti-malware, endpoint solutions, assessment, testing, and continuous monitoring.
In the most basic of terms, Evolver:

Applies state of the art technologies to calculate cyber business risk using the FAIR model
Correlates the risk to quantitative dollars
Develops plans that reduce the risk and monitor internal and external environments for indicators and warnings of items that may change the cyber risk landscape for an organization
Implements the plans with state of the art technologies using NIST controls
Continuously manages and monitors the enterprise based on the quantified cyber business risks
Just like other risk areas, Evolver's approach reduces the risk and impact of the cyber threat and provides measurable objectives for short- and long-term planning and evaluation.
Evolver will discuss and showcase their Cyber Risk Ecosystem in a Webinar for CEOs, CISOs, CTOs, CROs and CFOs on September 29, 2016, at 1:00 p.m. ET. Click here for more information and to register.
About Evolver
Evolver is a technology company serving the Federal, Commercial, and Legal industries that addresses client challenges in the present and transitions clients to the future by introducing efficient and effective IT solutions. We specialize in cybersecurity, cloud, infrastructure, application, end-user, data analytics and legal services. Specific to cybersecurity, Evolver secures enterprises with our quantified Cyber Risk Ecosystem where we provide technology and services that positively impact cyber and risk management challenges.
With a dedicated focus on client satisfaction, Evolver has proven its value time and time again, from managing day-to-day operations to skillfully navigating the implementation and support of new technologies.