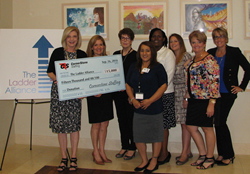 It's very seldom to get a phone call in the nonprofit world from someone you don't know, that says we want to bring your agency a $15,000 check!
Fort Worth, TX (PRWEB) September 23, 2016
CornerStone Staffing, a locally-owned staffing agency, is celebrating 25 years in business this year. The company started in 1991 with one office in Ft. Worth and over time has grown with the economy in Dallas/Fort Worth to eleven offices. CornerStone offices are located in the communities of Addison, Arlington/Grand Prairie, Dallas, Ft. Worth, Las Colinas, Lewisville, North Fort Worth, Richardson, Watauga, and Frisco (to be opened October 2016).
Committed to supporting the communities they serve and as a means of saying thank you for 25 wonderful years; CornerStone Staffing provided donations to three local non-profits. The Ladder Alliance in Ft. Worth, Dress for Success Dallas, and Attitudes & Attire Dallas each recently received a donation from the company.
"There are many worthy non-profits doing tremendous work in the community. We chose three to which we could really lend our expertise, as they focused on supporting people in their efforts to find employment", said Jody Smith, Co-Owner of CornerStone Staffing. Each of the organizations help women thrive, by providing them with the tools necessary to secure employment and lead successful lives.
Sharon Cox, Founder and Executive Director of The Ladder Alliance, accepted the donation on behalf of The Ladder Alliance and afterwards said, "It's very seldom to get a phone call in the nonprofit world from someone you don't know, that says we want to bring your agency a $15,000 check! Such was the case with CornerStone Staffing! But the best part is now a synergistic partnership is developing between The Ladder Alliance and CornerStone. Ladder Alliance can provide the training and CornerStone can then help our graduates find employment. We couldn't be more excited about the new partnership we have with Cornerstone Staffing!"
About Attitudes & Attire
Founded in 1996, the idea for Attitudes & Attire was simple - to build the self-esteem of women entering the workforce and to provide professional interview attire. Find more information about Attitudes & Attire on their website at: http://attitudesandattire.org/
About Dress for Success
Dress for Success empowers women to achieve economic independence by providing a network of support, professional attire and the development tools to help women thrive in work and in life. Find more information about Dress for Success Dallas on their website at: https://dallas.dressforsuccess.org/
About The Ladder Alliance
The Ladder Alliance, based in Fort Worth, Texas, empowers women victims of domestic violence and low-income women with the tools to lead self-reliant, successful and independent lives. Find more information about The Ladder Alliance at: http://ladderalliance.org/
About CornerStone Staffing
For 25 years CornerStone Staffing has been providing staffing services to businesses, and employment to professionals in the Dallas / Fort Worth area. CornerStone serves over 600 companies and produces an average of 9000 W2's per year. The company's eleven branches offer temporary staffing, temporary-to-hire staffing, professional placement services and payroll services to a variety of industries including Office Professional, Accounting, Finance, Call Center, Healthcare, IT, and Engineering. A locally-owned company, a 2016 recipient of the Dallas Business Journal's Best Places to Work, and four time Consumer Choice award winner, CornerStone Staffing, relishes opportunities to support their community through donations, fundraising, and volunteer activities.