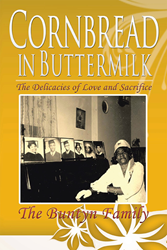 This book is a reminder of the good things that have been lost, but can be found again.
Austin, TX (PRWEB) September 26, 2016
Cornbread, soaked in buttermilk is an old-fashioned, southern delicacy. For Billy (pen name) Buntyn and his siblings, it symbolizes the love and sacrifice of their late-grandmother, who raised them, single-handedly, to have faith in God, get an education and maintain family values.
"Cornbread in Buttermilk: The Delicacies of Love and Sacrifice," by the Buntyn family is a heartwarming tribute to and biographical account of the life of Emma Lee Buntyn, affectionately known as Pappie by her grandchildren.
"After our parents divorced, our neighbors and the court system planned to split up my siblings and I," Billy Buntyn said. "Pappie sacrificed her dreams and stepped in to raise us all in a two-bedroom apartment, in one of the most notorious neighborhoods in New York – Harlem."
Billy Buntyn, described as the "rebel" of the six children, went from almost failing out of high school and serving time in jail to earning his PhD and working full time in pastoral ministry.
"Our life as a family wasn't easy," Buntyn said. "Things could have turned out very differently, for all of us, if we didn't have Pappie teaching us right from wrong. Those values are fleeting in today's social structure. This book is a reminder of the good things that have been lost, but can be found again."
For more information, visit: http://www.thebuntynfamily.com/.
Cornbread in Buttermilk
By The Buntyn Family
ISBN: 978-1-5144-1306-7
Available in softcover, hardcover, e-book
Available on Amazon, Barnes & Noble and Xlibris
About the author
Dr. (Billy) Buntyn is a teacher, certified by the Texas Board of Education, an ordained and licensed preacher and skilled in the culinary arts. He contributed a collection of poems to the book, as well. Bernadine is the youngest Buntyn and a sign language interpreter. Her twin sister, Bernadette, is retired but serving full-time as an ordained, licensed minister. Ina was a singer and had a joyful heart. She passed before the book was completed. Cynthia, who is also a singer, attended Lehman College, got married and raised three, beautiful children. Paul was drafted during the war in Vietnam. During his time in the U. S. Marine Corps, he was awarded several honors, including a Purple Heart. He is presently pastoring in San Marcos, Tex.
# # #
For review copies or interview requests, contact:
Lindsey Gobel
317.435.2116
lgobel(at)bohlsengroup(dot)com