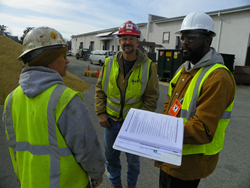 Supporting the critical and diverse missions within the DOJ is something we take very seriously.
Pasadena, MD (PRWEB) September 22, 2016
The Department of Justice (DOJ) awarded a single-award Blanket Purchase Agreement to LRS Federal, a Maryland-based engineering and construction management company, to provide a full range of Environmental, Energy, Sustainability, and Compliance Support Services necessary to meet the needs of the DOJ Justice Management Division Facilities and Administration Services Staff's Environmental mission. LRS Federal, and teaming partner Eastern Research Group (ERG), will provide support for all DOJ facilities and activities, including the Headquarters/Components and bureaus (FBI, ATF, DEA, Bureau of Prisons, and Marshals Service).
The scope of this five year agreement requires LRS Federal to assist DOJ with analyzing the performance of ongoing programs and projects and developing and implementing programs to address identified gaps. Specifically, LRS will assist with Climate Change Adaptation/Resilience Planning, Greenhouse Gas Inventory and Reduction, Sustainability Performance and Metrics Support, National Environmental Policy Act Program Development and Technical Support, Recycling and Solid Waste Management, Sustainable Acquisition, and Environmental Management System Support.
"LRS Federal continues to expand our customer base within our consulting practice," said Tom Scott, LRS Federal's President. "We are particularly excited about the depth and breadth of consulting expertise that our teaming partner, Eastern Research Group (ERG), offers to our team. Their excellent past performance with the Department of Justice and our combined environmental consulting qualifications will provide a powerful team to the many bureaus within the Department of Justice."
LRS Federal, a Service-Disabled Veteran-Owned Small Business (SDVOSB), with headquarters outside Annapolis, Maryland supports federal projects nationwide with a focus on engineering, construction management, environmental services, "green" energy initiatives, and program/project management support.