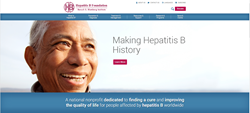 DOYLESTOWN, Pa. (PRWEB) September 22, 2016
The Hepatitis B Foundation is proud to announce the launch of a new, updated website that improves user experience and simplifies navigation for the 1 million people from 150 countries who visit the site, http://www.hepb.org, each year as a trusted global authority for information about hepatitis B.
As the foundation celebrates its 25th anniversary in 2016, the website's new homepage highlights the foundation's mission: "Making Hepatitis B History." The site includes easy access to facts and figures about hepatitis B infection; information about prevention and vaccination, current treatment options and promising new drugs in the research pipeline; translated information in 10 languages; and information and support for patients and families. Most importantly, the new website highlights the important work that the foundation is doing in research, education, public health and national advocacy to address the enormous burden of hepatitis B in the United States and globally.
Information is organized to reach specific audiences: people looking for accurate information about the hepatitis B vaccine, people newly diagnosed with hepatitis B, people living with hepatitis B, and people interested in supporting or learning more about the good work of the foundation. This presentation makes it easy for people searching for specific information to find what they need, quickly.
One helpful resource on the site is "Patient Stories," a resource that allows users to gain insight into the experience of living with hepatitis B. Other important features include the "Hepatitis B Drug Watch," which is the first of its kind to track and monitor drugs in development for hepatitis B and is followed by many in the field; a national and international "Liver Specialist Directory" of doctors who specialize in liver diseases and hepatitis B; and information about the many educational and training research opportunities.
The site also serves as a hub for the suite of websites in the Hepatitis B Foundation's family, including that of its research arm, the Baruch S. Blumberg Institute, its national coalition, Hep B United, its annual scientific meeting, the International HBV Meeting, and the foundation's weekly Hep B Blog, which highlights trending topics, upcoming events, and other helpful resources.
Designed by Doylestown-based marketing agency IQnection, the site also enables users to sign up for the foundation's free monthly e-newsletter. For more information, visit http://www.hepb.org.
About the Hepatitis B Foundation: The Hepatitis B Foundation is the leading nonprofit organization in the U.S. solely dedicated to finding a cure for hepatitis B and improving the quality of life for those affected worldwide through research, education and patient advocacy. To learn more, go to hepb.org, read our blog at http://www.hepb.org/blog, follow us on Twitter @HepBFoundation, find us on Facebook at http://www.facebook.com/hepbfoundation or call 215-489-4900.
# # #