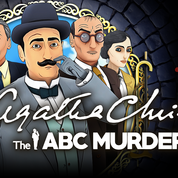 Paris, France (PRWEB) September 21, 2016
Microïds and Artefacts studio announced today that the adventure and investigation game "Agatha Christie: The A.B.C. Murders" - already available on PlayStation 4, Xbox One, PC and Mac – will arrive on iOS and Android on September 29. By embodying detective Hercule Poirot, players will be able to discover or rediscover the story of A.B.C Murders, one of Agatha Christie's Queen of crime, most famous novels.
The game begins when Poirot receives a mysterious letter from someone named A.B.C., announcing an upcoming murder. More worryingly, the disconcerting confidence of the killer who does not hesitate to despise the police and question the intelligence of the famous Belgian detective! The adventure will take players across England for an exciting investigation where they will need to use smart strategy, keen eyes, wit and composure.
The gameplay has been designed to reflect Hercule Poirot's notorious sound and logical intelligence called "little grey cells" upon the player himself:

Observation: First Person view sequences where the player guides Hercule Poirot's gaze on to important crime scene details, a background or a character, to find the clues needed to continue the investigation.
Interrogation: The player questions the various constituents of the story through a system of multiple choice phrases. Hercule Poirot's insight allows him to monitor mood changes when conducting an interrogation.
Collection and use of items: Although our favorite detective is more keen on using his intellect rather than his physical strength, he will occasionally discover an item he will have to use wisely in order to advance the story.
Puzzles: The game features more than fifteen varied puzzles the player will have to solve in order to collect a hidden item or discover a secret hideout.
« Little grey cells»: Mandatory game's sequences where the player answers questions regarding the murders circumstances or suspects using the clues he has collected previously.
Reconstruction: After investigating every cases, the player will have to chronologically reconstruct the very last moments leading to the murder.
Agatha Christie - The ABC Murders is an adventure and investigation game published by Microïds and developed by Artefacts Studio, it will be available on iOS and Android from September 29 for $6.99. Voice-over are available in French and English. Sub-titles were translated in the following languages: French, English, Italian, Spanish, German, Portuguese, Polish and Russian.
Join us on Facebook, follow-us on Twitter,
Discover all our videos on Youtube
*****
Media Contact
Damien Sarrrazin
damien(at)homerunrpr.com
+1.310.741.8659
About Microïds
Created in 1985, Microïds is an international publisher of multi-platform video games based in Paris (France). Today, it represents Anuman Interactive's video game business in all its forms. Managed by its creator Elliot Grassiano, Microïds keeps getting stronger and widens its large game catalogue with genres as varied as adventure, management, simulation and action. Through its adaptations of iconic titles such as "Syberia" or "Amerzone" on new supports or through its original creations ("Subject 13", "The A.B.C. Murders", "Yesterday Origins"…), Microïds is developing on PC, Mac, Playstation, Xbox, as well as iOS and Android mobiles and tablets Besides its heroes and heroines from original creations (Kate Walker from "Syberia", Victoria Mc Pherson from "Still Life"…), Microïds also creates new titles including other characters or authors from other media (comic books, cinema, literature…) such as Garfield, Lucky Luke or Agatha Christie.
Microïds is currently developing Syberia 3 scheduled for 2016, responding to many fans of this cult adventure game series (more than 3 million sold) who have been waiting for more than ten years. For more informations, visit the official website http://www.microids.com, the Facebook Page http://www.facebook.com/microids, Twitter http://www.twitter.com/Microids_off or Pinterest http://www.pinterest.com/microids.
About Artefacts Studio
Artefacts Studio is a French development studio based in Lyon. Since its creation in 2003, the studio has become a reference in the video game market in France. Created by former Infogrames co-workers, the company is managed by Bruno Chabanel, its CEO. It has diversified its activity towards 3 main activities: The full development (30 games already developed); sub-contracting and outsourcing (more than 50 games) and Serious Games/Robotic. PC, XBOX One, PS4, Wii U, 3DS and also on tablets and IOS and Android mobiles are just a small example of the experience of the studio and the skillset of its teams. We have now taken a strategic move towards ambitious and innovative games RPG/RPG tactic based, with a high quality gameplay and creatives storyline, allowing a deep immersion in strong and believable universes. For more information, visit the official website: http://www.artefacts-studio.fr/
About Agatha Christie Ltd (ACL)
Agatha Christie Ltd (ACL) is chaired by Agatha Christie's great grandson James Prichard and managed by CEO Hilary Strong. 64% of ACL is owned by RLJ Entertainment, a premier independent owner, developer, licensee and distributor of entertainment content and programming in primarily North America, the United Kingdom and Australia. 36% is owned by Agatha Christie's family.
ACL has been managing the literary and media rights to Agatha Christie's works around the world since 1955, working with the best talents in film, television, publishing, stage and on digital platforms. Most recently this has included the global publications of the new Poirot novel The Monogram Murders and its forthcoming successor Closed Casket by bestselling crime writer Sophie Hannah, and the 2015 BBC One adaptations of Partners in Crime starring David Walliams and Jessica Raine, and And Then There Were None starring Charles Dance and Aidan Turner.
© 2016 Microïds. © 2016 Anuman Interactive. Microïds is a registered trademark of Anuman Interactive SA. All rights reserved.
©2015 Agatha Christie Limited (an Acorn Media Group company). All rights reserved.