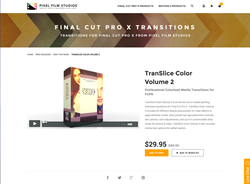 TranSlice Color Volume 2 comes equipped with 60 customizable transition presets that allow FCPX editors to get creative with their next video project
Aliso Viejo, California (PRWEB) September 21, 2016
Pixel Film Studios Recently Released TranSlice Color Volume 2, a Colorized Media Transition Plugin for FCPX.
"TranSlice Color Volume 2 comes equipped with 60 customizable transition presets that allow FCPX editors to get creative with their next video project," said Christina Austin - CEO of Pixel Film Studios.
TranSlice Color Volume 2 brings Final Cut editors 60 new transition presets to choose from. These presets have up to 6 different drop zones for media placement, and can modified on the fly. Each Preset is simply applied between clips, and stretched out to the desired length.
TranSlice Color Volume 2 allows FCPX users to place in Images or Video into each Drop Zone. Fully-editable text is also included in each preset, along with a fully customizable drop zone for Logo placements. Video editors can now display logos and add in messages between shots with these easy-to-use presets.
TranSlice Color Volume 2 includes variations for Final Cut Pro X with Motion Blur for added realism. With just a few minor adjustments, panels can slide and arrange between clips revealing new media and messages with the realism of Motion Blur effects.
TranSlice Color Volume 2 was professionally designed to work seamlessly inside of Final Cut Pro X. As a transition toolset, each TranSlice: Color Volume 2 preset can be dragged and dropped between media and previewed in real time. With the published parameters found in the FCPX inspector, users have the ability to make further adjustments easily and on-the-go.
Established in 2006, Aliso Viejo, California-based Pixel Film Studios is an innovative developer of visual effects tools for the post-production and broadcast community. Their products are integrated with popular non-linear editing and compositing products from Apple FCPX. Apple, the Apple logo, Mac OS X, and Macintosh are registered trademarks of Apple Inc. in the U.S. and/or other countries. All other trademarks and trade names are the property of their respective owners.