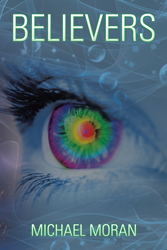 MIAMI (PRWEB) September 20, 2016
In a world full of superhero archetypes like Batman and Superman, one Miami native has introduced a new, yet realistic superhero in his novel "Believers."
As a tribute to his childhood friends, author Michael Moran filled "Believers" with excitement, love and morality. Through action-packed chapters, Moran highlights the central hero Jerry Miller and his determination to believe in himself once he discovers his superpowers.
"While I focus heavily on Jerry and his powers, this novel also highlights the importance of family and friends," Moran said. "Because of the support and guidance from Jerry's loved ones, he was able to rise above the evil and contribute his powers to the greater good of his community by becoming a police officer."
Moran said maintaining strong and meaningful relationships is enriching, and by writing "Believers," Moran said he hopes to provide readers with a powerful influence to never stop believing.
In this distinctive superhero novel, readers will be inspired by the positive impact of friendship, loyalty and hard work.
"Believers"
By: Michael Moran
ISBN: 978-1-52462-190-2 (hardback); 978-1-52462-191-9 (paperback); 978-1-52462-189-6 (electronic)
Available at Amazon.com, Barnes & Noble and AuthorHouse Publishing
About the author
Michael Moran is a Florida native and currently resides in Miami. He graduated from Florida International University with a bachelor's degree in English/Education and a master's in Educational Leadership.
# # #
Review Copies & Interview Requests:
LAVIDGE - Phoenix
Courtney Coombes
480-998-2600 x 612
General Inquiries:
LAVIDGE - Phoenix
Maggie Driver
480-998-2600 x 584